Flower Cake Gallery
What better way to celebrate an occasion than a flower cake. I love flowers. Lots of flowers! Flowers make me smile. Flowers make me happy. So to celebrate spring, I'm featuring flower cakes.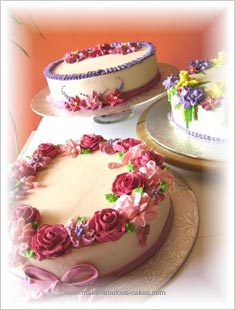 Flowers made out of icing, either buttercream or royal icing, are always a favorite to use on cakes. And sometimes you will also need a basket to put your flowers in. So, learn the basketweave technique as well.
Some decorators can create the most awesome, realistic looking gum paste flowers. Check out Check out this primer about gum paste flowers and learn how to make them. It does take some commitment and a bit or patience to learn how to make gum paste flowers. But I think it is worth the time.
Rolled fondant can also be used to make flowers for the cake. Make easy fondant roses or simply use a cutter to cut out the flower.
And of course, real flowers can also be used on cakes though certain precautions must be used when using it.
So, here are some flower cakes to inspire you. It sure made me smile making them and I hope it will do that same to you to. Enjoy!
---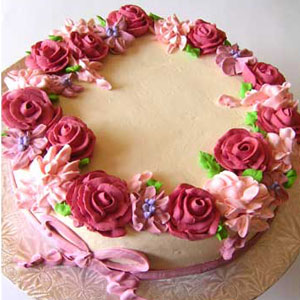 Make a Flower Birthday Cake
Give a flower birthday cake to that special someone when the occasion arises. Here are some ideas for flower birthday cakes...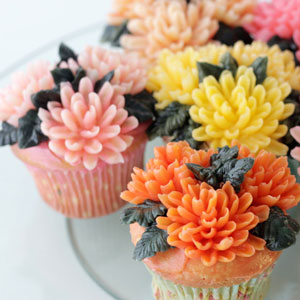 Buttercream Chrysanthemum Flower Cupcakes
   These buttercream chrysanthemum flower cupcakes are so much fun to make!  Perfect for spring or any time of the year!
---
Flower Cake Gallery Top
Home Page
› Flower Cake Gallery
The images, tutorials and content on make-fabulous-cakes.com are protected by copyright laws. DO NOT distribute or copy the content without written permission. DO NOT edit, crop, or remove watermarks from any image or video. If you intend to use any of the text, templates or images within, it must be linked back to this site with credit given to www.make-fabulous-cakes.com. For questions contact us HERE.
Disclosure: Please note some of the links in this post may be affiliate links, I will earn a commission if you decide to make a purchase. This doesn't cost you anything additional and I truly appreciate this support, thank you!

comments powered by