Lavender Lemon Cake with 
White Chocolate Buttercream
This post may contain affiliate links. Please read my privacy policy and disclosure.
This dreamy Lavender Lemon Cake will be the hit of your next celebration! This cake combines layers of lavender cake infused with lavender simple syrup, then filled with lemon curd and frosted with white chocolate buttercream.  
And so I turned 45.
As you know, I only make a cake for myself on the occasional blue moon.  Last time I made a legit birthday cake for myself was on my 40th.  I thought that number merits a cake.
This year I'm turning 45 and I thought that would be a nice round number to have a cake.  I also wanted to recreate a cake I made a while back but never got the chance to take decent pictures that I could share in here in my blog.  It got devoured real fast and I got rave reviews on how it was delicious. 
A few years ago, I went to a lavender farm in the south of Quebec called Bleu Lavande.  It was a lovely day touring the fields and learning the process of how they make the lavender oil.  
Oh the place of course smelled heavenly.  My only thought was I want to make a lavender cake!  So I grabbed a tin of the culinary lavender they had and went on my merry way.
Lavender cake is such a sophisticated flavour.  But you have to be very careful about using too much lavender as the flavour might be too empowering and the cake will taste more like soap or potpourri.  
I know I want to add lemon, and white chocolate would be so good too.  These flavours would balance out the floweriness of the lavender.    
I think this cake is one of my faves so far.  Flowery, rich and tart.  I winner in my books.
So back to my birthday. 
I had this fantasy in my head that I want to put all 45 candles on my cake and blow them all out.
Simple, right?
Let me tell you that whilst all 45 candles can fit on a 6" cake, it took 3 of us to light up all 45 candles. #oldageproblems
Then, I thought I had a fantastic idea of using a blowtorch to light up the candles, coz I thought it would be faster that way.  I think I saw it on a show on tv one time and I thought that it was so cool. 
Please don' t do that.  Just listen to me and don't.
So, three smoke alarms later and a melting cake I was finally able to blow my cake.
See below how 45 candles looks like all lit in a 6" cake.
And see me blowing it all out, part excited part terrified that the cake just might burst into flames!

Note to self, just stick to those numbered candles. Two candles are enough, okay maybe even 3 max, if I get to live to a 100. 
But it's all in good fun! My 45th birthday was literally lit!
---
How to Pipe Buttercream Lavender Flowers
---
The piping of the buttercream lavender flowers on this cake is reminiscent of those impressionistic paintings.
There but not there, nothing precise was how I approached piping these flowers.  With just little points and lines, I was able to recreate a "lavender field" on the cake. 
Watch the video below on how to make the 
buttercream lavender cake
YOU WILL NEED:
Offset Tapered Spatula 
Pastry tip 2 (2x) one for the stem and another one for the flowers
Pastry Tip 81
Wilton Moss Green gel colour
Wilton Violet gel colour
Wilton Delphinium gel colour
Buttercream Frosting
Pastry Bag 
Plastic Couplers

For the leaves, colour some buttercream with Moss green colouring.  Sometimes I like to add a tiny bit of brown in the pastry bag before adding in the green, this way it will have a nice two tone colours that will give the leaves more depth and realism.
And for the lavender, colour the buttercream with violet and a bit of Delphinium Blue to tone down the colour a bit.

First make the background "foliage" by spreading some of the green buttercream using a small tapered angled spatula.  
Next, pipe some stems using pastry tip # 2. Make the stems different heights angled in different directions.  Don't worry if the lines aren't straight or it comes out squiggly or if you dig in the cake while piping it (like I did as you will see in the video).  We can always cover up our mistakes with some lavender or leaves.
Using tip #2 with the lavender butercream, pipe little dots to make the lavenders.  I like to pipe them in bunches, so I start almost halfway of the stem, wider or more dots on the bottom part then it tapers to less dots on the top. 
Add the leaves using pastry tip # 81. 
Now, repeat all around the cake.
*Does not print in Chrome browser; pls. print in Mozilla or Internet Explorer.*

LAVENDER LEMON CAKE WITH
WHITE CHOCOLATE BUTTERCREAM
INGREDIENTS
LAVENDER CAKE
6 oz (170 g)  white chocolate
3/4 cup or 1-1/2 sticks (170 g) unsalted butter, softened
1-1/2 cup (300 g) granulated sugar
2 whole eggs
4 egg yolks
1 tsp vanilla
3 cups (375 g) cake flour
4 tsp baking powder
½ tsp salt
1 tbsp dried culinary lavender
1 1/4 cup buttermilk at room temp.
LAVENDER SIMPLE SUGAR SYRUP
1/2 cup water
1/2 sugar
1 tbsp dried culinary lavender

1 Recipe Lemon Curd
WHITE CHOCOLATE BUTTERCREAM
1 Recipe Italian Meringue Buttercream
6 oz (170 g) white chocolate
METHOD
Make one recipe of lemon curd.  Keep chill in the refrigerator until ready to use.
LAVENDER SIMPLE SYRUP
Place the water and sugar in a sauce pan over medium heat.  Once boiling, let it boil for one minute.  Then turn off the heat and add the dried lavender.  Let it steep and let cool while you make the cake.  Strain before using it. 
 LAVENDER CAKE
Preheat the oven to 350°F; and line 3 x 6" round cake pans with parchment circles. You can also use 2 x 8" round cake pans (cakes won't be as high as 6" ones).
Melt 6 oz of white chocolate either by using a double boiler or by microwaving it 30 seconds at a time until melted.  Set aside and let cool but keep it melted.
Cream butter with sugar until lighter in colour and creamy.  Whisk in the whole eggs and egg yolks and the vanilla for about a minute.  Add in the melted white chocolate and mix for one minute, stop and scrape down the sides with a rubber spatula, then mix for another minute until well blended. 
In another bowl, sift cake flour with baking powder and salt.  Add in the dried lavender (but first, crush it with your fingers to release the flavor and aroma).
Stir the flour mixture alternately with buttermilk, beginning and ending with the flour mixture.
Pour batter in prepared cake pans and bake for approximately 40-50 minutes. The cake is ready when an inserted wooden skewer or cake tester comes out clean or when cake springs back when lightly pressed with a finger.
Let the cake cool in pans for about 10 minutes. Loosen the sides with a knife or metal spatula and invert to a metal rack. Invert again to another rack to prevent the cake from splitting. Cool completely.
WHITE CHOCOLATE BUTTERCREAM
Make one recipe of Italian Meringue Buttercream.  Melt the other 6 oz of white chocolate, let cool and add it in the buttercream until it is well incorporated.
TO ASSEMBLE THE LAVENDER LEMON CAKE
Cut off the domed top  of each lavender cake using a serrated knife.  Place one piece on a cake board or serving platter.   Drizzle the layer with some lavender simple sugar syrup.
Place some buttercream in a pastry bag fitted with a large round pastry tip or in my case I used just the coupler. Pipe a "dam" all around the edge of the cake with buttercream.  Spread some buttercream in the center with an angled spatula right up to the piped dam.  Add in the lemon curd on top of the buttercream and spread as well.
Place another layer of cake and repeat the process again -  drizzle the syrup, make a dam, add buttercream and lemon curd.  Then cover with the last layer of cake.  Don't forget to drizzle with the syrup. 
The layers of cake maybe sliding off due to the lemon curd.  Place it in the fridge to chill so that it will be easier to handle.  Crumb coat the cake with some buttercream and place in the fridge til set, about 15 minutes.  Frost with the rest of the buttercream and decorate as desired.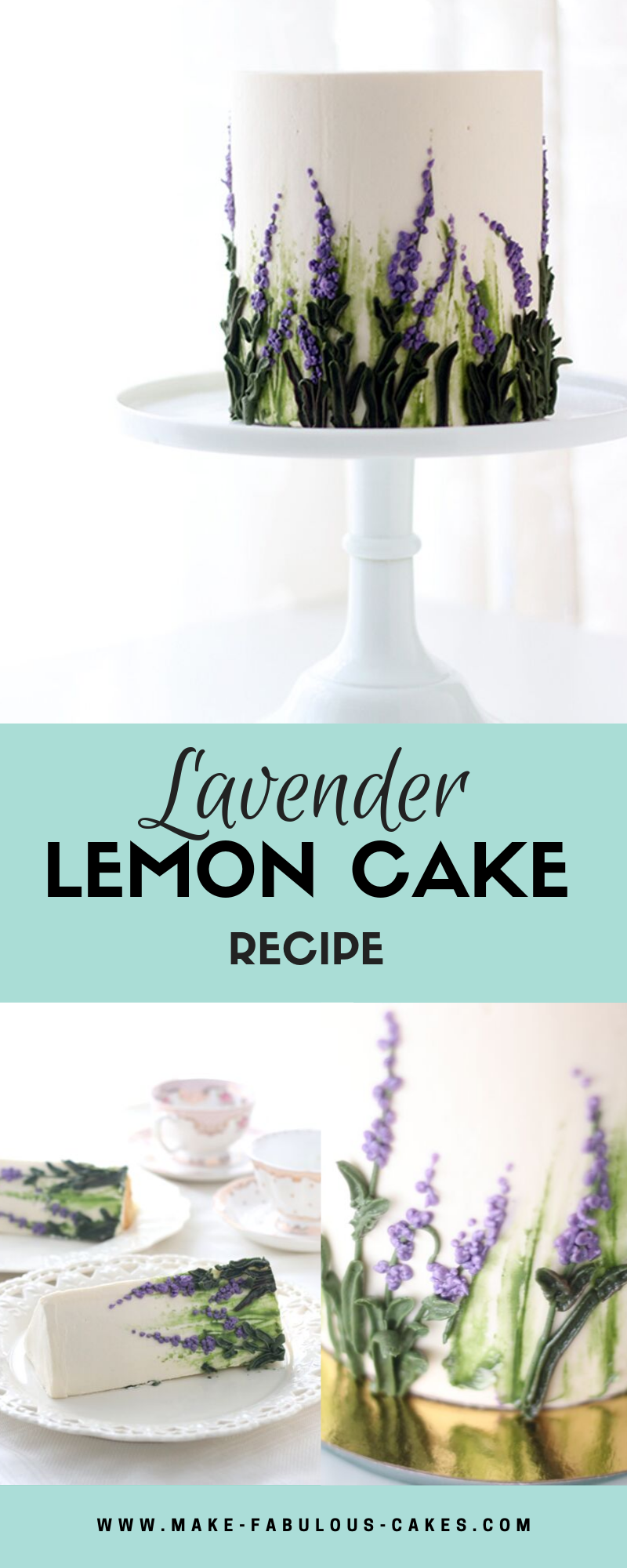 ---
Lavender Lemon Cake with White Chocolate Buttercream Top
Home Page

›
Delicious Cake Recipes
› Lavender Lemon Cake with White Chocolate Buttercream
The images, tutorials and content on make-fabulous-cakes.com are protected by copyright laws. DO NOT distribute or copy the content without written permission. DO NOT edit, crop, or remove watermarks from any image or video. If you intend to use any of the text, templates or images within, it must be linked back to this site with credit given to www.make-fabulous-cakes.com. For questions contact us HERE.
Disclosure: Please note some of the links in this post may be affiliate links, I will earn a commission if you decide to make a purchase. This doesn't cost you anything additional and I truly appreciate this support, thank you!

comments powered by