Buttercream Frosting
Italian Meringue Buttercream
This post may contain affiliate links. Please read my privacy policy and disclosure.
The buttercream frosting that I prefer to cover and decorate my cakes with is called Italian Meringue Butter Cream (a.k.a. IMBC).  I love this buttercream because the taste is so creamy and smooth and relatively easy to work with.
There are only 3 basic ingredients needed for this buttercream frosting: egg whites, sugar and butter. The process involves making a meringue by boiling the sugar into the firm ball stage and pouring it into the the egg whites to cook it. Butter is added once the mixture has cooled down.

I prefer to use pasteurized egg whites that comes in a carton. It is very convenient to just pour and measure it in a cup rather than break and separating the yolks from the white.
The butter should be soft but on the cool side. If the butter is too soft and warm the resulting buttercream will be too thin and will have a hard time holding up its shape. When this happens, place the bowl in the fridge to cool it down. You can also set the bowl on top of ice cold water. Mix it often with a spatula to avoid hardened clumps.
This buttercream frosting sets hard when refrigerated due to its butter content. It is best to serve it at room temperature; take the cake out of the fridge one hour before serving it. Serving the cake cold or at room temperature also goes by personal preference. I have a friend who likes eating the frosted cake from the freezer because the frozen buttercream "tastes like ice cream".
You can freeze unused buttercream frosting in an airtight container for up to 6 months. To use it, bring the buttercream to room temperature and using the stand mixer, beat it with the spade beater. You can also plan ahead by putting the frozen buttercream frosting in the fridge the night before, this will shorten the waiting time. Sometimes it will look crumbly or a curdled mess but don't get discouraged. It is simply a tad bit cold and you can remedy this by either placing it in the microwave for a few seconds or putting the bowl on top of warm water. Always stir the rubber spatula to make it smooth.
I have tried different IMBC recipes and I found that Kate's Buttercream from the book The Whimsical Bakehouse: Fun-to-Make Cakes That Taste as Good as They Look! will give the best capacity for my stand mixer. It yields about 8 cups of frosting, generous enough to fill and frost up to 2 - 10'' round cakes. You can flavor it up by adding fruit purees and flavored liquor. An did I also mention that it tastes incredibly good? 

Italian Meringue Buttercream Frosting
INGREDIENTS
2 1/2 cups (500 gr)granulated sugar

1/2 cup (125 ml) water

1 cup (250 ml) eggwhites 

1 tsp. (5 gr)cream of tartar (optional)

1 1/2 lbs.(680 grams)or 6 sticks unsalted butter cut up into small pieces
1 tsp. (4 gr) pure vanilla
METHOD
In a saucepan, combine 2 cups (400 gr) of sugar and water and heat until bubbly.
Beat the eggwhites until soft peak have formed and slowly add the remaining 1/2 cup of sugar. Beat until stiff peaks have formed.Back to the syrup, bring it to a boil until a candy thermometer registers 248 degrees F (firm ball stage). At this stage, bigger bubbles are formed while boiling.
With the mixer on high speed, pour the syrup on to the sides of the bowl, careful not to pour it on the beaters. When all the syrup has been added, lower the speed and let it beat until cool.
Add the butter a piece or two at a time. It will sometimes come to a point where it looks curdled, just increase the speed slightly and continue beating until smooth.
Lastly, add the vanilla.


VARIATIONS

Flavoured Liquor: Adding Liquor is a great way to flavour the buttercream. My favorite is Grand Marnier. Slowly add up to 1/2 cup of liquor while mixer is on.

Chocolate Buttercream: Add about 10 oz of melted bittersweet or white chocolate. Add more to taste.

Fruit Flavour: Add up to 1- 1 1/2 cups of strawberry or raspberry puree that has been slightly sweetend with sugar. I prefer to use frozen berries that been defrosted. You can also use lemon, orange or lime curd to flavour the buttercream. Use the same amounts as the purees.
Adapted from The Whimsical Bakehouse: Fun-to-Make Cakes That Taste as Good as They Look by Kaye Hansen.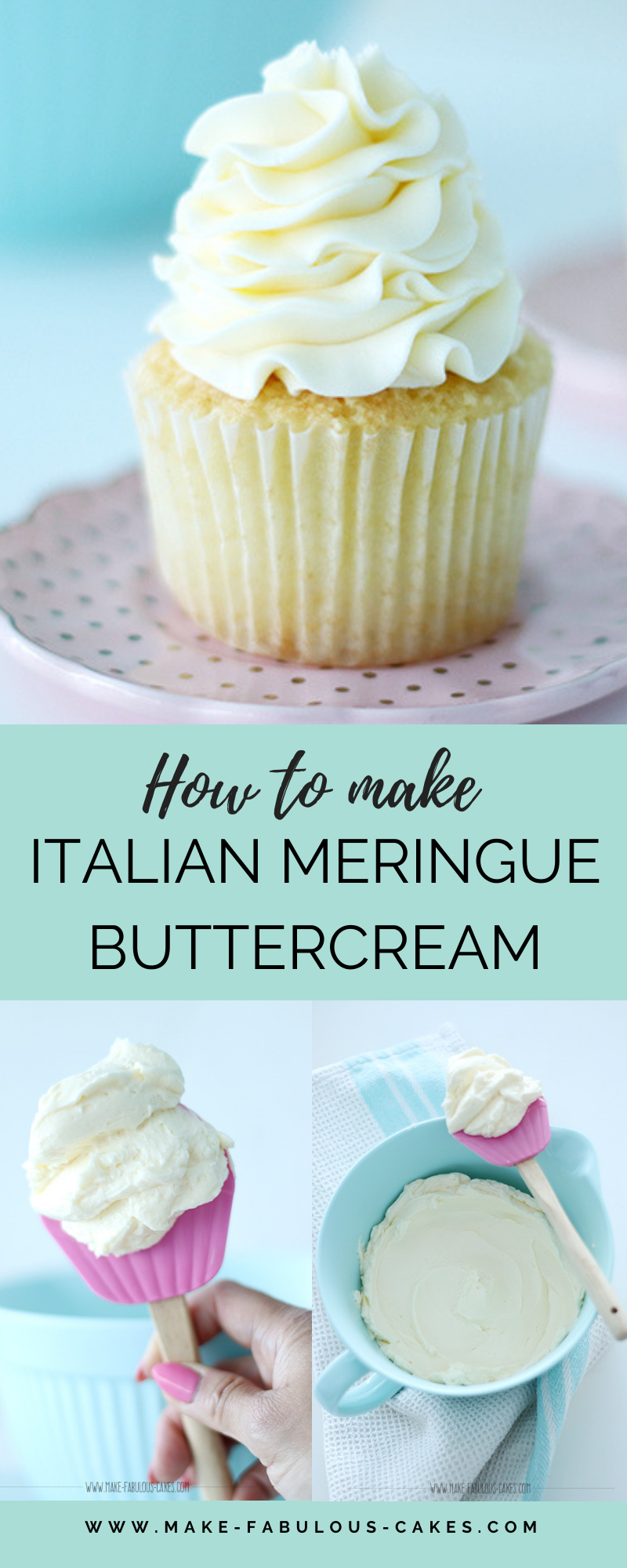 ---
Buttercream Frosting Top
Buttercream Frosting
The images, tutorials and content on make-fabulous-cakes.com are protected by copyright laws. DO NOT distribute or copy the content without written permission. DO NOT edit, crop, or remove watermarks from any image or video. If you intend to use any of the text, templates or images within, it must be linked back to this site with credit given to www.make-fabulous-cakes.com. For questions contact us HERE.
Disclosure: Please note some of the links in this post may be affiliate links, I will earn a commission if you decide to make a purchase. This doesn't cost you anything additional and I truly appreciate this support, thank you!

comments powered by