Gum Paste Flowers
This post may contain affiliate links. Please read my privacy policy and disclosure.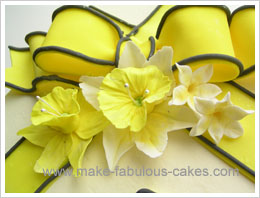 Making gum paste flowers may not be as hard as one thinks it may be. While it is not that difficult, it does take time, patience and precision.
At first I was intimidated at making gum paste flowers and it took me sometime before trying it. By looking at cakes with realistic looking flowers (and some really are jaw-dropping) gave me the nudge to finally try making it. And I was not disappointed.
---
GUM PASTE BASICS
---
Gum paste is a sugar dough that has a special ingredient added - Gum Tragacanth. This essential ingredient makes the paste stretchable, elastic and pliable; well, sort of like a gum! Because of this, gum paste can be rolled very thinly, even as thin as paper. And this what makes a very real-life looking petals for flowers. It also dries hard and you can pretty much keep the item forever.

You can make gum paste or buy it ready made. So far, I haven't tried ready made ones, so I have no opinions on it yet. Update** I've started using Satin Ice Gumpaste and I love it. Texture is great and it holds its shape very well.
Gum Tragacanth powder can be found at cake decorating stores and, of course, on-line too. I discovered along the way that there are are good quality Gum Trag and not so good ones, too. Grade A Gum Trag are what you really want to use. Wilton sells a similar product called Gum-Tex, and I find that the gum paste does not stretch as much. If you however only have access to Gum-Tex, you are still better off with this than having none.
Another alternative to Gum Trag and Gum-Tex is Tylose powder.  Tylose can be used to replace gum trag in a gum paste recipe.  I find that the gum paste feels just as the same as if using gum trag.  Another plus is that it is cheaper, too.  I find that I use Tylose powder more and more nowadays because of this. 

The recipe I like to use is from Scott Clark Woolley, a master sugar artist. His website www.worldofsugarart.com is full of goodies and all things you need for anything gum paste. I find that his recipe gives the most elastic paste.
Another gum paste recipe that I had tried is from Wilton. I use this recipe with their product,Gum-Tex. As I've already mentioned, it is not as stretchy but it is easier and faster to make.
---
WHAT ELSE DO I NEED to make gumpaste flowers?
---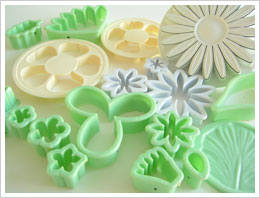 Gum Paste cutters will make your life easier when making gum paste flowers. They come in all sizes, shapes and made out of different materials. Cutters come in either plastic or metal. Metal cutters cuts sharper edges than plastic ones. They do have a tendency to rust, so when washing metal cutters make sure they are dry before putting them away.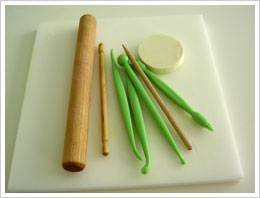 Other tools are also needed for making these flowers. A small rolling pin is needed to roll the gum paste. There are also tools that help in shaping and marking gum paste, like the ball tool, veining tool, dog bone tool, etc. Foam pads are also helpful when making and shaping the flowers.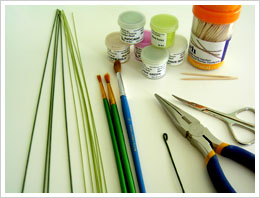 Different wires with varying gauges are also used in making gum paste flowers. I use long nose pliers to cut and bend the wires. Fine scissors are very handy in detail work. Petal dusts are used to color the sugar flowers. And fine brushes are used to apply them on.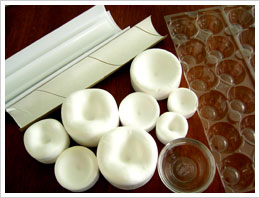 Flower formers are good for shaping the flowers. I like the styrofoam ones from CelCakes Sugarcraft , they come in different shapes and sizes, too. I also make my own formers; I made one from the carton tube inside the paper towels and cut it into two as flower formers. I have also used egg cartons, foil, bowls and even rolling pins. Look around the kitchen and see what you can use, be creative!
So, its never to late to start making gum paste sugar flowers. Keep in mind to have fun while doing it! With just a little practice, you too can make beautiful lifelike flowers that will have people saying 'What?! That's made out of sugar?!'.
---
Gum Paste Flower Index
---
Try your hand on making these gum paste flowers. 
Easy Daisy
Brighten up your cake with these dainty little gum paste daisies. Not only that they're super cute, they are also fast and easy to make!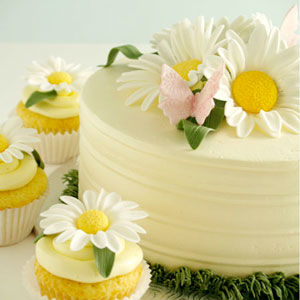 Daisy
This tutorial will show you how to make pretty sugar daisies.
Gerbera
Gum paste gerbera flower is one of my favorite flowers to make. Gerber flowers are amongst my favorites in real life too. They are cute and bright...

Daffodil
Make this gum paste daffodil flower for a fun, spring time cake project. Daffodils are dainty little flowers that are always the first ...

Calla Lily
There's something about the calla lily that speaks classic elegance. Maybe that's why it's commonly used in weddings and other formal occasions...

---
Gum Paste Flowers Top
Home Page
› Gum Paste Flowers
The images, tutorials and content on make-fabulous-cakes.com are protected by copyright laws. DO NOT distribute or copy the content without written permission. DO NOT edit, crop, or remove watermarks from any image or video. If you intend to use any of the text, templates or images within, it must be linked back to this site with credit given to www.make-fabulous-cakes.com. For questions contact us HERE.
Disclosure: Please note some of the links in this post may be affiliate links, I will earn a commission if you decide to make a purchase. This doesn't cost you anything additional and I truly appreciate this support, thank you!

comments powered by