Blueberry Cream Cake
This post may contain affiliate links. Please read my privacy policy and disclosure.
This Blueberry Cream Cake is made up of layers of vanilla cake, homemade blueberry jam and fluffy mascarpone cream frosting and surrounded by blueberries. Lotsa and lotsa blueberries.  

I almost called this cake Blueberry Dream Cake.  Why?  It's so loaded with blueberries that it is a blueberry lover's dream come true.
I just love blueberries and the idea of blueberries covering all the sides of the cake has been floating in my mind for quite some time.  I was just waiting for the season to start when blueberries are in abundance (and ergo cheap).
So yes, this has been a dream come true for me.  Never mind if you might think I'm a bit crazy for lining up all the berries in rows. Lotsa and lotsa rows.  It has all been worth it let me tell you.
It's not only packed with blueberries on the outside but it is also filled with homemade blueberry jam inside.  So you kinda get the marriage of both flavours with the concentrated blueberry flavour inside the cake and then the brightness of the fresh blueberries outside the cake.  
And for the frosting, I have always wanted to try Passion for Baking's Vanilla Frosting and it turned out to be perfect with the berries.  I mean how can you go wrong with mascarpone cheese and whipped cream?  I think I could even eat just the berries with the frosting. Who needs cake?
Okay, okay, since this is a cake website, we are going to make a cake.  The decoration is pretty simple, albeit maybe a bit time consuming, but the end product is very striking.  Everyone will ohh and ahh once you bring in the cake. 

For decoration on top of the blueberry cream cake, I used what is called a St. Honoré pastry tip.  It is a special tip used to decorate a type of French pastry called the gateau St. Honoré.  I kinda broke conventions here when I used the tip on a cake other than the Honoré and I may even get flack from hardcore French pâtissiers.  I've been wanting to use this tip and let's face it, I don't think I'll be making a gateau St. Honoré any time soon.  Not because I'm hating it but I have other cakes I want to try.  
Check out this video of the tip in action.
I sprinkled some handmade bean paste lilacs and blossoms to finish the look and it came out just perfect, don't you think? 
When I try out new cake recipes I usually just have a slice to test if it was good and then I would give the rest away.  For this cake tho', I already ate more than half the cake and umm quite honestly, I don't think I'll be sharing the rest with anybody lol.  It is that good :)

*Does not print in Chrome browser; pls. print in Mozilla or Internet Explorer.*

Blueberry Cream Cake Recipe
INGREDIENTS
2 cups blueberries (fresh or frozen)
6 tbsp. sugar
¼ cup water
1 tbsp. orange liqueur (Grand Marnier)
1 tsp. orange zest (optional)
2-3 cups fresh blueberries for decoration
Cake:
2/3 cups (150 g) butter, room temperature
1 cup (200 g) granulated sugar
2 large eggs
2 tsp. vanilla
2 cups (230 g) cake flour
2 tsp baking powder
1 1/3 (300 ml) cup milk
Frosting:
2-1/2 cups (625 ml) heavy whipping cream (35%)
1 (275g) tub of mascarpone cheese
1 cup (100 g) confectioner sugar
2 tsp vanilla
METHOD
Place the 2 cups of fresh or frozen blueberries in a sauce pan with sugar and water over medium heat until it starts boiling, about 3 minutes.  Add the orange liqueur and stirring from time to time until thickened, about 20 minutes.  Stir in the orange zest and set aside to cool.
CAKE
Preheat the oven to 350°F; and line 2 x 6" round cake pans with parchment circles.
Cream butter with sugar until light and creamy.  Whisk in eggs and vanilla until well mixed. 
In another bowl, sift cake flour with baking powder.
Stir the flour mixture alternately with milk, beginning and ending with the flour mixture.
Pour batter in prepared cake pans and bake for approx. Bake cake for approximately 40 minutes. The cake is ready when an inserted wooden skewer or cake tester comes out clean or when cake springs back when lightly pressed with a finger.
Let the cake cool in pans for about 10 minutes. Loosen the sides with a knife or metal spatula and invert to a metal rack. Invert again to another rack to prevent the cake from splitting. Cool completely.
FROSTING
Place the mascarpone in the bowl and whisk to break it and lighten it up.  Add the rest of the ingredients and whisk until fluffy and stiff peaks have formed but be careful to not overbeat it dry.  Frosting should be still be on the fluffy side and smooth.
ASSEMBLY
Cut each cake horizontally into two.  Place the frosting in a pastry bag fitted with a coupler or tip about ½" round. Place the cake on to a board or serving platter and pipe a dam of frosting along the edge of the cake.  Spread 1/3 of the jam and pipe more of the frosting to cover the jam.  Place another cake on top and repeat the process 2 more times and placing the last piece of cake on top.  Frost the cake completely.  Place the blueberries on the side of the cake.  Using a St. Honoré pastry tip, pipe tear drop shapes all around the top of the cake (see video).  

Hope you'll enjoy this blueberry cream cake as much as I did :)
xoxo,

PRODUCTS USED TO MAKE THE CAKE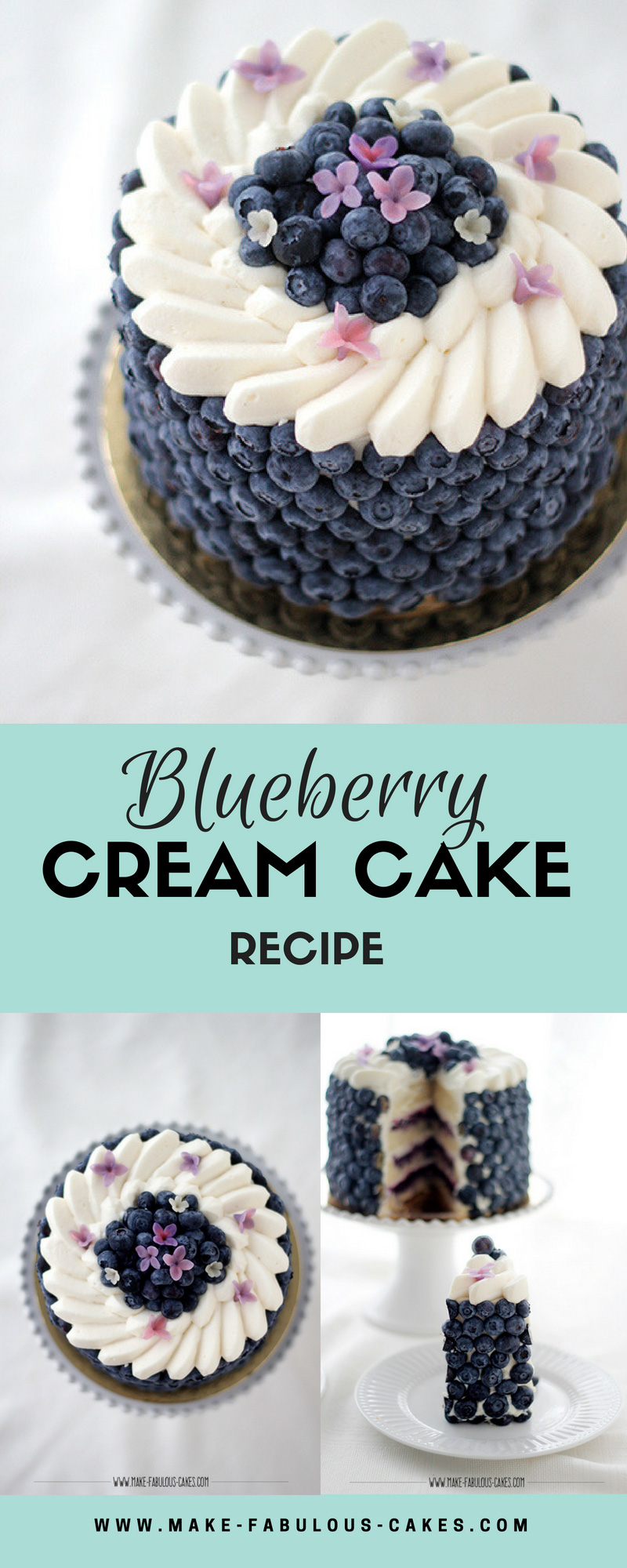 ---
Blueberry Cream Cake Top
Blueberry Cream Cake
The images, tutorials and content on make-fabulous-cakes.com are protected by copyright laws. DO NOT distribute or copy the content without written permission. DO NOT edit, crop, or remove watermarks from any image or video. If you intend to use any of the text, templates or images within, it must be linked back to this site with credit given to www.make-fabulous-cakes.com. For questions contact us HERE.
Disclosure: Please note some of the links in this post may be affiliate links, I will earn a commission if you decide to make a purchase. This doesn't cost you anything additional and I truly appreciate this support, thank you!

comments powered by