Easter Cake Ideas :
Sweet and Festive Treats for Your Celebrations
This post may contain affiliate links. Please read my privacy policy and disclosure.
Easter is a time for celebration, and what better way to celebrate than with a delicious cake? Whether you're hosting a family gathering, a potluck with friends, or simply looking for a fun baking project, I've got you covered with a collection of creative and tasty Easter cake ideas. From classic carrot cake to adorable bunny cakes and everything in between, these ideas are sure to inspire and delight.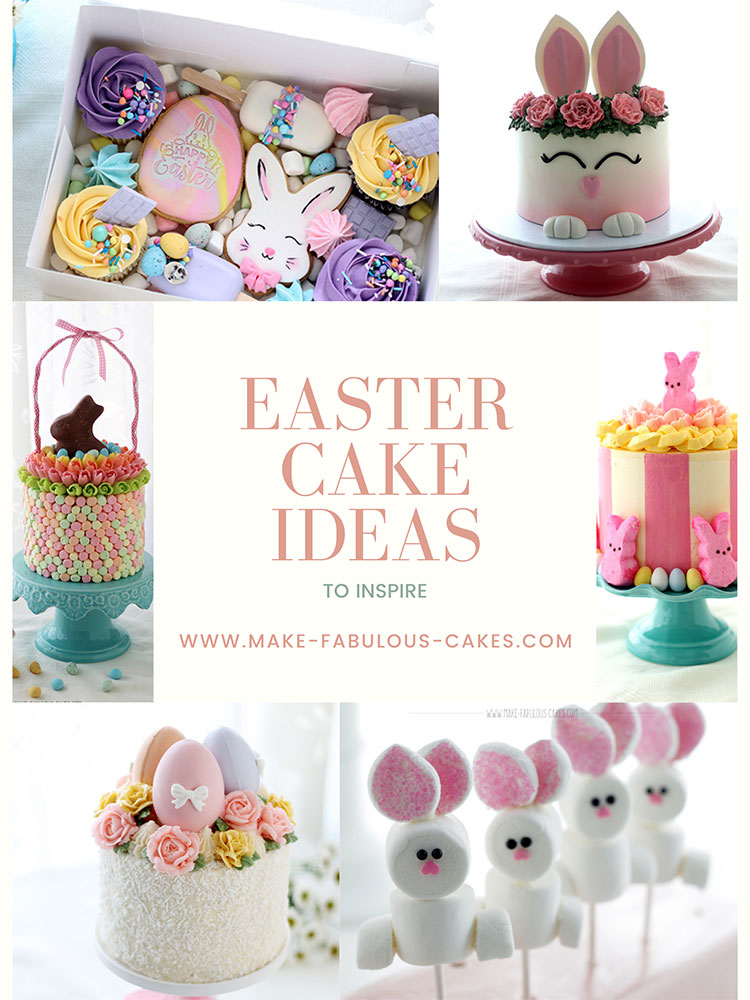 ---
Here are some Easter Cake Ideas with step by step tutorial that you can find from the blog
---
Carrot Cake
Carrot cake is a classic dessert that's perfect for Easter. Its delicious blend of warm spices, moist texture, and tangy cream cheese frosting make it a crowd-pleaser for any springtime gathering. I happen to have the yummiest carrot cake recipe, be sure to check it out.
ANGEL FOOD CAKE
If you're looking for a fun and festive Easter dessert that's sure to impress, look no further than our angel food cake covered with pastel marshmallows. This airy, delicate cake is the perfect canvas for a colorful display of springtime treats. We've taken it to the next level by covering it with fluffy pastel marshmallows, making it a showstopper on any Easter table. Get the recipe for angel food cake here.
Easter Cake with Marshmallow Bunny
Looking for a cute and playful Easter dessert that's as fun to make as it is to eat? This adorable cake features a fluffy marshmallow bunny nestled atop a moist and delicious cake, all decorated with cheerful pastel eggs. Whether you're baking with kids or just looking for a playful dessert to add to your Easter spread, this cake is sure to be a hit. Check out the full tutorial here. 
Easter Basket Cake
This delightful cake is decorated with a buttercream basketweave and topped with an array of chocolate eggs and flowers, making it the perfect centerpiece for your Easter table. With its playful and festive design, this Easter basket cake is sure to impress your guests and make your celebrations extra special.
Blossoms and Bird's Nest Cake
Looking for a beautiful and unique Easter cake idea? This Blossoms and Bird's Nest cake is just what you need. This stunning cake is adorned with delicate piped icing flowers, a chocolate Turkish candy bird's nests, and candy eggs, making it the perfect centerpiece for your Easter celebrations. 
---
ANd here are some past Easter cake Ideas that I posted on instagram  
---
Marshmallow basket bunny Cake
This whimsical Marshmallow Basket and Chocolate Bunny Cake features a rich chocolate bunny perched on top of a "basket" cake covered entirely with marshmallows.  Not only is it a showstopper on any dessert table, but it's also a fun and creative way to get the kids involved in Easter baking. Let the kids get busy with the arduous task of placing the marshmallows on the cake! 
EASTER TREAT BOX
Looking for a fun and creative way to spread some Easter cheer? Consider putting together an Easter treat box filled with a variety of delicious treats. Fill a box with your favorite Easter-themed treats, from adorable rabbit and egg-shaped cookies to whimsical Easter cakesicles, pastel meringues, and more. These treats are not only delicious but also a perfect way to bring some Easter joy to your loved ones, whether near or far. 
Easter Peep Cake
This Easter Peep Cake with painted stripes on the side is just the thing to add some fun to your holiday celebrations.  This fun cake features colorful Peeps marshmallow candies on top and sides of the cake. But the real showstopper is the painted stripes on the side of the cake, which add an extra pop of color and texture. And of course some chocolate eggs. And lots of them! 
Flower Bunny Cake
This cake is a playful take on a classic layer cake, with cute bunny ears made from fondant and a beautiful spring flower design using buttercream frosting. It's the perfect dessert to bring a smile to your guests' faces and add a touch of fun to your Easter celebrations (and birthdays too!) 
I hope these Easter cake ideas have inspired you to get creative in the kitchen this holiday season. Happy Easter and happy baking!
Much love,

---
The images, tutorials and content on make-fabulous-cakes.com are protected by copyright laws. DO NOT distribute or copy the content without written permission. DO NOT edit, crop, or remove watermarks from any image or video. If you intend to use any of the text, templates or images within, it must be linked back to this site with credit given to www.make-fabulous-cakes.com. For questions contact us HERE.
Disclosure: Please note some of the links in this post may be affiliate links, I will earn a commission if you decide to make a purchase. This doesn't cost you anything additional and I truly appreciate this support, thank you!

comments powered by