Carrot Cake Recipe
This post may contain affiliate links. Please read my privacy policy and disclosure.
This carrot cake recipe is a sure crowd pleaser. The first time I made it for my family, they absolutely flipped over it, all of them asked for a second serving. And I understand why, it is moist and full of flavor.
When you bake this cake, it will fill your house with a heady aroma of spices such as cinnamon and nutmeg.
This recipe is easy to make. The longest amount of time taken will be grating the carrots.
Use a large setting for grating the carrots. Grating it finely will just release the juice and it will affect the cake texture.
Although this carrot cake is good on its own, it is just not complete without the cream cheese frosting. Nuts and raisins are, of course, according to personal taste.
*Does not print in Chrome browser; pls. print in Mozilla or Internet Explorer.*

CARROT CAKE RECIPE
INGREDIENTS
2 cups (250 g) all purpose flour
2 tsp. (10 g) baking soda
2 tsp. (10 g) baking powder
1/2 tsp. (3 g) salt
3 tsp. (15 g) ground cinnamon
1/2 tsp. (2.5 g nutmeg )
4 eggs
1 1/4 (300 ml) cups oil
1 cup (200 g) granulated white sugar (
1 cup (239 g) packed brown sugar
2 tsp. (4 g) vanilla
3 cups (300 g) grated carrots
1 cup nuts (100 g) (pecans or walnuts) optional
1 cup raisins (100 g) (optional)

METHOD
Preheat oven to 325°F. Prepare two 9" pans or one 12" cake pan or one 9"x 13" sheet pan by lining with parchment or wax paper.
Sift together flour,baking soda, baking powder, salt, cinnamon and nutmeg in a bowl.
Whisk together eggs, oil, sugars, and vanilla for about 1 minute.
Add the dry ingredients and mix for about 2 minutes more.
Fold in grated carrots. Then add nuts and raisins if desired.
Pour batter in prepared cake pans and bake for approx. 45 to 50 minutes. The cake is ready when an inserted wooden skewer or cake tester comes out clean or when cake springs back when lightly pressed with a finger.
Cool the carrot cake completely. Fill and frost with cream cheese frosting. Decorate with sugar carrots and walnut halves.
---
HAND-MADE FONDANT CARROTS

---
Decorate your carrot cake with carrots made out of rolled fondant, marzipan or gum paste. Color the paste orange and green.
Make a ball about 3/4" or 20 mm in diameter.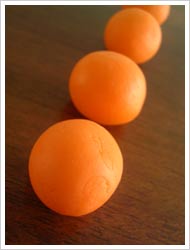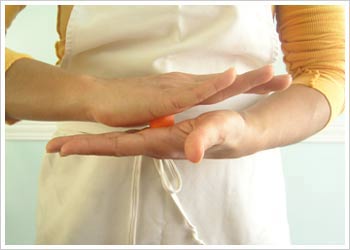 Make a small log by rolling the paste between your hands. Make a cone shape by applying pressure only on one end while rolling.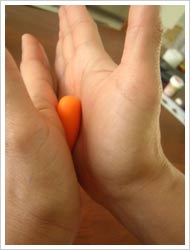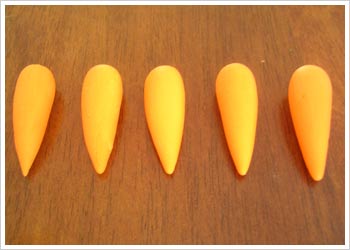 To make the stalk, get a small ball of green paste and flatten it with finger. Make some slits on the top part with a knife. Pinch together the uncut, bottom part.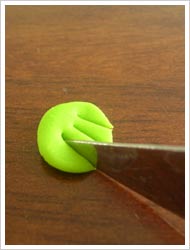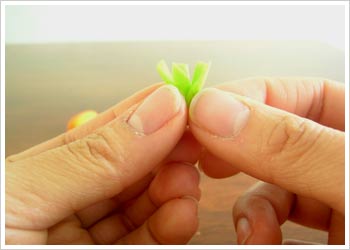 Poke a hole on the top part of the carrot with a skewer. Moisten the pointed part of the stalk and insert in the hole.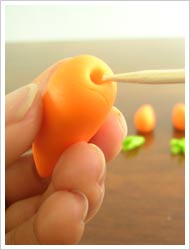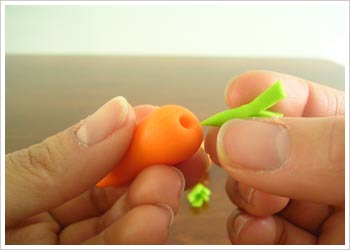 Using a knife, lightly make random lines on the carrot.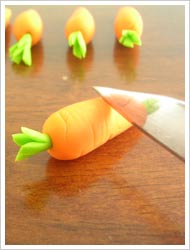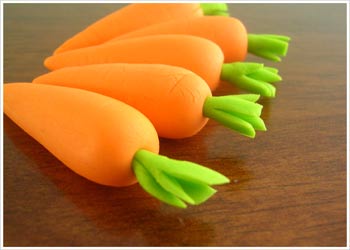 Place on carrot cake and enjoy!

---
Carrot Cake Recipe ⬆
Carrot Cake Recipe
The images, tutorials and content on make-fabulous-cakes.com are protected by copyright laws. DO NOT distribute or copy the content without written permission. DO NOT edit, crop, or remove watermarks from any image or video. If you intend to use any of the text, templates or images within, it must be linked back to this site with credit given to www.make-fabulous-cakes.com. For questions contact us HERE.
Disclosure: Please note some of the links in this post may be affiliate links, I will earn a commission if you decide to make a purchase. This doesn't cost you anything additional and I truly appreciate this support, thank you!

comments powered by