Easter Cake: Buttercream Blossoms and Bird's Nest
This post may contain affiliate links. Please read my privacy policy and disclosure.
This Easter cake is decorated with buttercream blossoms and a very easy and yummy bird's nest.  And of course it wouldn't be complete if it didn't have chocolate eggs.

I made a video on how I made this cake.  In this video you will see how I piped the buttercream blossoms and build it around the cake.  
We love carrot cake around here and instead of just having a plain cream cheese frosted cake, I jazzed it up with some simple buttercream blossoms all around like a wreath.
Buttercream Blossoms
I used this buttercream to make the blossoms.  Check out the video above on how I made it.  It is better to see it in action rather than reading about it.  I used petal tip #104 to make the blossoms.  After I piped the blossoms on a piece of wax paper, I placed it in a cake board then put it in the freezer for about 15 minutes until it is hard.  Once it is hard, it is easier to place it on the cake.

Before I place I piped some cream cheese frosting all around using the coupler or a large round tip.  This will help elevate the flowers a little bit.

Then I just added the flowers all around it.  

I covered the spaces between the flowers with leaves.  I used tip # 352 to pipe the leaves.
Edible Bird's Nest
I discovered some Turkish cotton candy, pismaniye, in a Middle Eastern grocery store the other day.
I can't tell you how delicious this stuff is.  It melts in the mouth like a cotton candy but the taste is nutty and sweet, yum! My immediate thought was that this would be perfect as a bird's nest. 

Pismaniye comes as white studded with a bit of nuts here and there.

I experimented and added some cocoa powder to color it brown like a nest.  I used my hands to mix it up, like in the video, and it broke down a bit.  It's okay to still use it though.  It's better to put the pismaniye in a plastic container, add the cocoa, place the cover and shake it.  Shake it just enough so that the cocoa covers the strands.

I shaped the pismaniye like a nest first then carefully transferred all of it at once in the middle of the cake.

Then I just added some candy covered chocolates in the center of the nest.

Then using the leaf tip with the green buttercream, I piped a nice border all around the cake.
And that's our bird's nest blossoms cake, so simple to make!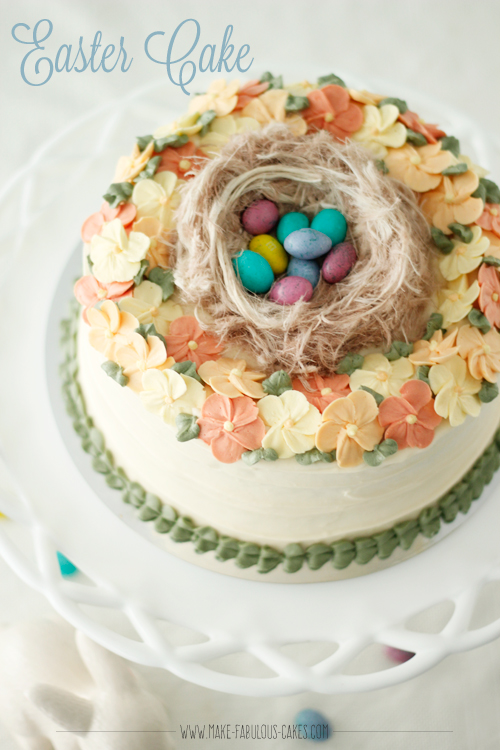 Happy Easter!
Warm hugs,

P.S.
If you want to learn more about how to make buttercream flowers, you may want to check out my online buttercream class:

Easter Cake Top
Home Page

›
Holiday Cakes
› Easter Cake: Buttercream Blossoms and Bird's Nest
The images, tutorials and content on make-fabulous-cakes.com are protected by copyright laws. DO NOT distribute or copy the content without written permission. DO NOT edit, crop, or remove watermarks from any image or video. If you intend to use any of the text, templates or images within, it must be linked back to this site with credit given to www.make-fabulous-cakes.com. For questions contact us HERE.
Disclosure: Please note some of the links in this post may be affiliate links, I will earn a commission if you decide to make a purchase. This doesn't cost you anything additional and I truly appreciate this support, thank you!

comments powered by