Buttercream Chrysanthemum
Flower Cupcakes
This post may contain affiliate links. Please read my privacy policy and disclosure.
These buttercream chrysanthemum flower cupcakes are so much fun to make!  Perfect for spring or any time of the year!
Check out this video I made on how easy it is to pipe these flowers directly on a cupcake. 

---
Buttercream Chrysanthemums Tutorial
---
To make this flower you will need:
Pastry tip #81 or #79
Pastry bag with coupler
Circle cutter 
Pastry tip #352
Buttercream
Cupcake (I used this recipe)

METHOD
First, frost the cupcake with a very thin layer of buttercream. Frosting the cupcake will prevent the exposed parts from drying out. I like to make indentations with a circle cutter to mark where the flowers will go. This will also serve as a guide on how big the flowers will be and keep it in a nice even shape. For this cupcake I want 3 small mum flowers.  You can also make one big one on the center of the cupcake. 
Fill the pasty bag with buttercream of desired colour. The colour used here is Americolor Electric Orange.  Using pastry tip #81 (used here) or #79, place the tip on almost a 90 degree angle on the cupcake. For the outer edge of the flower, keep the tip slightly tilted towards the outside. 
The more you get inside the flower, the more the pastry tip will positioned straight on the cupcake.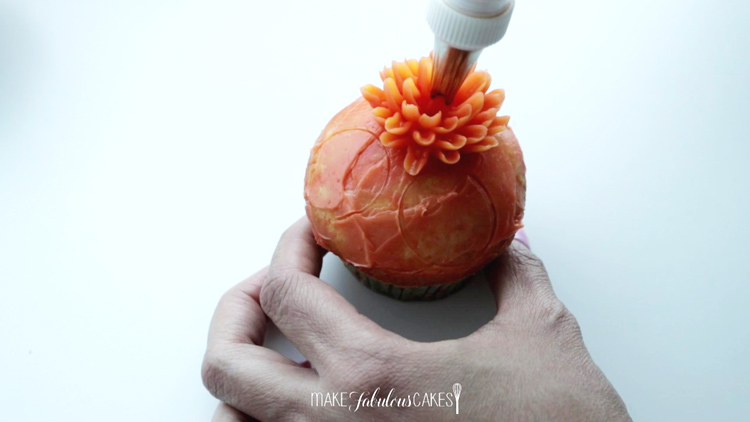 Repeat and make two more flowers.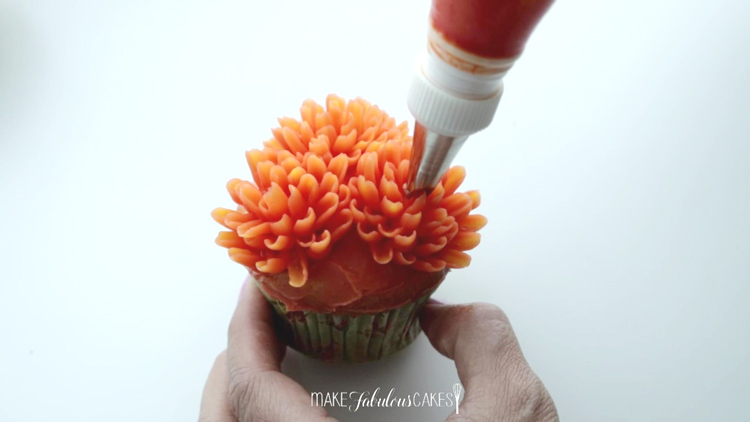 Using leaf tip #352, pipe the leaves around the flowers.  The colour I used for the leaves here is Wilton Juniper Green.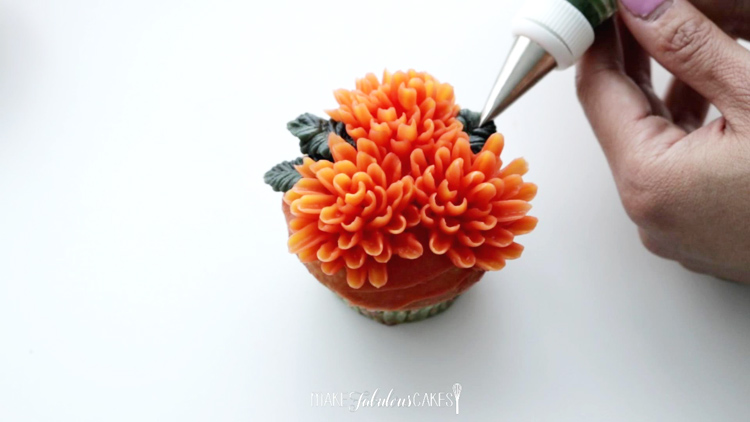 Now that was simple, wasn't it?  
Gotta love these buttercream mums with all the different colours! 
---
If you want to learn more buttercream flowers
---
Now, if you want to learn more on how to make beautiful buttercream flowers, check out my online class Make Fabulous Buttercream Flowers!  
---
Buttercream Chrysanthemum Flowers Top
Buttercream Chrysanthemum Flowers
The images, tutorials and content on make-fabulous-cakes.com are protected by copyright laws. DO NOT distribute or copy the content without written permission. DO NOT edit, crop, or remove watermarks from any image or video. If you intend to use any of the text, templates or images within, it must be linked back to this site with credit given to www.make-fabulous-cakes.com. For questions contact us HERE.
Disclosure: Please note some of the links in this post may be affiliate links, I will earn a commission if you decide to make a purchase. This doesn't cost you anything additional and I truly appreciate this support, thank you!

comments powered by