All Buttercream Flower Cake
This post may contain affiliate links. Please read my privacy policy and disclosure.
I had a cake tasting for a wedding with my sister's friend last weekend.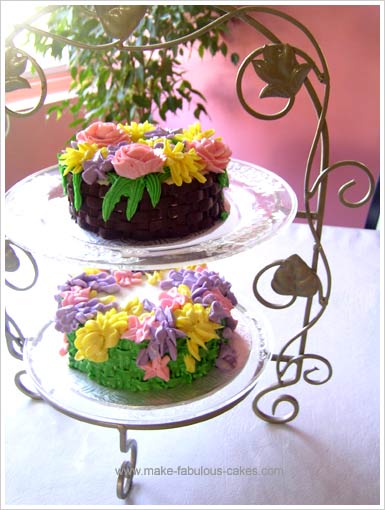 And since the smell of spring is in the air, I was inspired to make flower cakes as samples. I wanted the bride-to-be to taste two of my basic cake flavors, so I made one vanilla and one chocolate cake.
I wanted it fast and easy and, so I made it all the decorations in buttercream. 

These cakes reminds me of an impressionistic painting of a garden by Claude Monet. On most of his garden paintings, one can see just clusters of colors to suggest the flowers. But when one steps back to see the bigger picture, it is actually a garden. 
---
INSTRUCTIONS FOR ALL BUTTERCREAM FLOWER CAKES
I chose the pastel colors of pink, purple, yellow and green to color the buttercream.
The first buttercream flower cake I made was a 5" chocolate cake.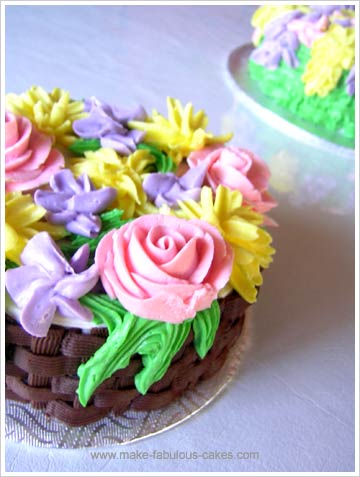 I used chocolate buttercream with tip#47 to make the basketweave effect on the side of the cake. As you can see in the photo, I crumb coated it first to keep the crumbs intact.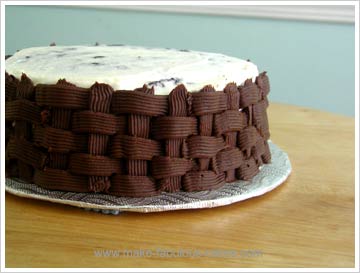 With pink buttercream and tip # 104, pipe a rose. Using a spatula transfer the rose to the cake and use another spatula or knife to help ease it out of the spatula on to the cake. Make a few more roses and place randomly on the cake.
Using green icing with tip #18, pipe a few vines or leaves on the cake. Actually, it is best to do this before placing the flowers on the cake.
Make a chrysanthemum, using tip# 81 with yellow icing. To pipe the flowers, position the tip on a 45 angle and with heavy pressure first then pulling away as you finish the petal. Pipe the first layer of petal in a circle. Then add another layer of petal and so on until the top is covered. Place random mums around the cake.
With the purple icing using tip # 104, make a five petal flowers all over the cake. And voila you are done.
The second buttercream flower cake is a 6" sponge cake filled with orange marmalade buttercream.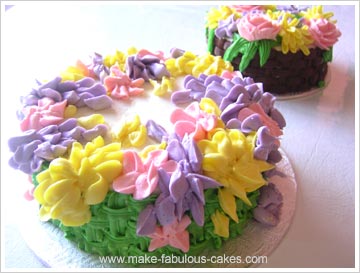 I still wanted to make a basketweave on this one but I wanted it to look different. I used a leaf tip # 66 to pipe the basketweave.
Then with tip # 61 and yellow buttercream, I piped a cluster of petals starting from the top then from the side. Make more yellow clusters all around the cake.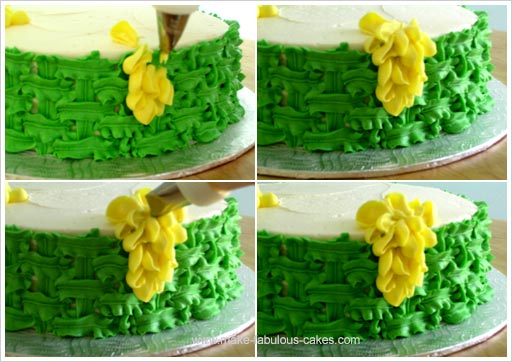 With pink buttercream and tip # 104, pipe five petal flowers randomly.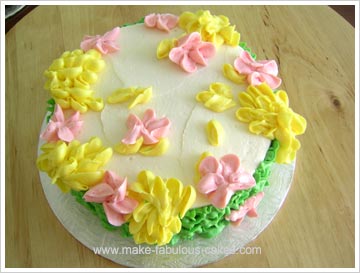 With purple buttercream and tip # 104, pipe clusters of purple petal this time all over the cake.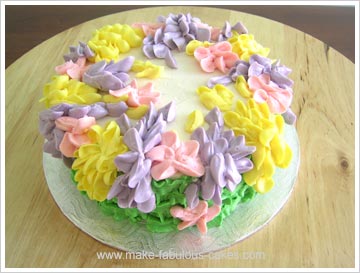 P.S.
If you would like to learn more on making buttercream flowers, you can check the online class that I created, Make Fabulous Buttercream Flowers.  It's a comprehensive video class that covers the basics from making buttercream, to making a variety of modern buttercream flowers to assembling the flowers on a cake. Check it out!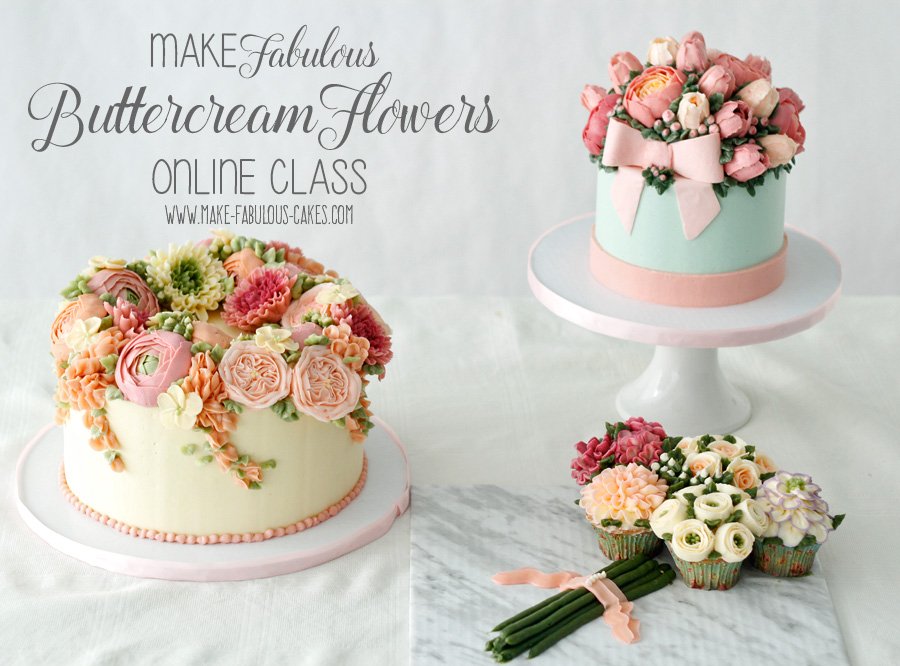 ---
Buttercream Flower Cakes Top
Buttercream Flower Cakes
The images, tutorials and content on make-fabulous-cakes.com are protected by copyright laws. DO NOT distribute or copy the content without written permission. DO NOT edit, crop, or remove watermarks from any image or video. If you intend to use any of the text, templates or images within, it must be linked back to this site with credit given to www.make-fabulous-cakes.com. For questions contact us HERE.
Disclosure: Please note some of the links in this post may be affiliate links, I will earn a commission if you decide to make a purchase. This doesn't cost you anything additional and I truly appreciate this support, thank you!

comments powered by