How to Make Fondant Ribbon Roses
Fondant ribbon roses add a touch of whimsy to any cake that you make. They are so easy to make that you can probably make it with your eyes closed. I use them a lot on cakes for kids, babies, and even for wedding cakes.
Here is a illustrated guide on how to make fondant ribbon roses. The tools that I used were a ruler and pizza cutter. I used a ruler as a guide when cutting the fondant with the pizza cutter. You can use a knife or metal spatula in place of the pizza cutter.
---
METHOD
Color the fondant to desired shade. Roll it to about 1/8" thick or thinner.
Using a pizza cutter and a ruler, cut a rectangular shape of approximately 3" by 7". You can cut them smaller or bigger depending on what size you will need. Once you cut the rectangle, fold it over lengthwise.
Then take one end and start rolling it to the other end. You can pinch the bottom part, like making some pleats, as you roll along. This helps open up the rose a bit.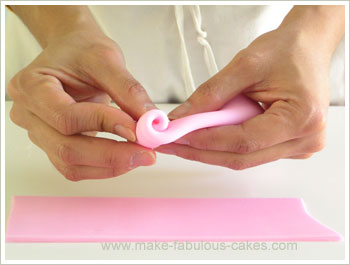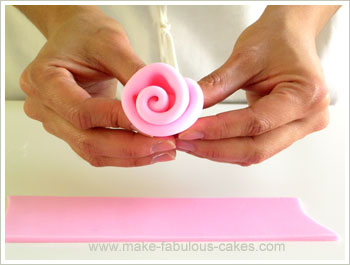 Once it's rolled all the way to the end, cut the excess part off.
Next for the leaves, cut the fondant into squares. What I do is roll out the fondant and cut a big square, then I cut smaller squares. This helps the production faster.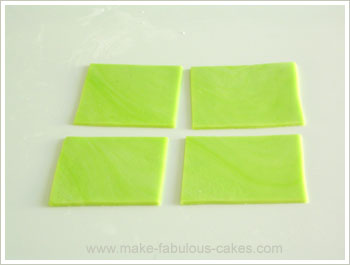 Then take two opposite corners of the square and pinch them together in the middle.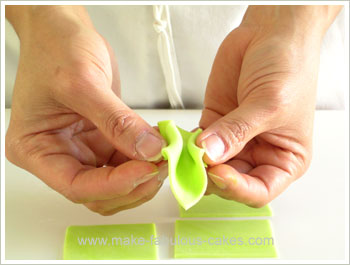 Cut the pinched part in the middle.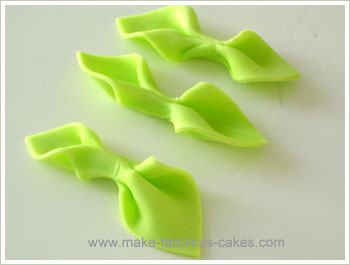 And voila, you get two leaves at once!
You can make them roses and leaves ahead of time and leave them to dry or you can place them on the cake right away.
Now that was easy!
You might also like:
---
Fondant Ribbon Roses Top
Home Page
› Fondant Ribbon Roses
The images, tutorials and content on make-fabulous-cakes.com are protected by copyright laws. DO NOT distribute or copy the content without written permission. DO NOT edit, crop, or remove watermarks from any image or video. If you intend to use any of the text, templates or images within, it must be linked back to this site with credit given to www.make-fabulous-cakes.com. For questions contact us HERE.
Disclosure: Please note some of the links in this post may be affiliate links, I will earn a commission if you decide to make a purchase. This doesn't cost you anything additional and I truly appreciate this support, thank you!

comments powered by