Birthday Cake Idea:
A Floral Gift Box Cake
This post may contain affiliate links. Please read my privacy policy and disclosure.
Here's a fun birthday cake idea - a floral gift box cake. It's great because the celebrant can have her present and eat it too.
It was made for a precious little girl who was celebrating her birthday. It is made to look like a present then finished off with a nice bow and flowers.

INSTRUCTIONS FOR FLORAL GIFT BOX CAKE

For this project I used an 8'' square cake and frosted it with uncolored buttercream. Make a lid with pink buttercream by following the instructions for easy gift box cake tutorial . When this is done, let the cake chill in the refrigerator.
Make 3 pieces each pink and orange fondant ribbon roses . Using the green fondant, make a few fondant leaves. Set aside.
To make the ribbon trim, roll the white fondant thin and cut 2'' wide bands. The length will depend on the height and width of the cake. Place the white fondant as shown in picture. Roll the brown thin and cut to 1/2'' strips. Place the brown strips on the edges of the white fondant bands.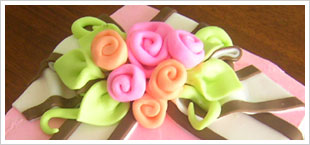 Make a bow using the white fondant. Add the thin brown strips at the edges. Place bow on the intersection of the bands on the cake. Place the fondant roses and leaves on top of the bow. Make a few tendrils using the green fondant and place with the roses and leaves. Roll out the brown fondant and cut circles from it using a large round pastry tip. Place the circles randomly on the bottom part of the cake.
You might also like:


Birthday Cake Idea: A Floral Gift Box Cake Top
Home Page

›
Adult Birthday Cakes
› Birthday Cake Idea: A Floral Gift Box Cake
The images, tutorials and content on make-fabulous-cakes.com are protected by copyright laws. DO NOT distribute or copy the content without written permission. DO NOT edit, crop, or remove watermarks from any image or video. If you intend to use any of the text, templates or images within, it must be linked back to this site with credit given to www.make-fabulous-cakes.com. For questions contact us HERE.
Disclosure: Please note some of the links in this post may be affiliate links, I will earn a commission if you decide to make a purchase. This doesn't cost you anything additional and I truly appreciate this support, thank you!

comments powered by