40th Birthday Cake
This post may contain affiliate links. Please read my privacy policy and disclosure.
I made this 40th birthday cake for a dear friend of mine. Her husband planned a surprise birthday party for her. It was a little bit hard to keep it a secret from her but we all managed to keep our mouths shut.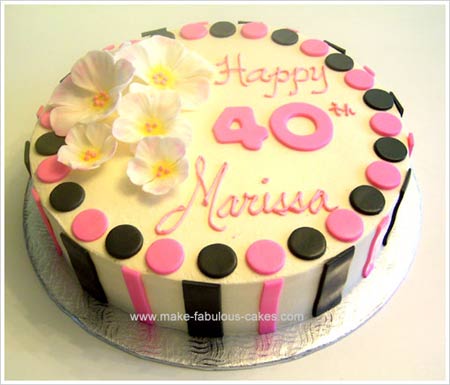 This cake is a touch of modern but is still very feminine. The colors pink and black are very trendy, while the dots and stripes add a contemporary feel to the cake. And the flowers gives it the feminine touch.

YOU WILL NEED:
A cake! (I used a 12" round cake)
fondant (in white, pink and black)
five petal rose cutter from FMM
flower formers from Celcakes
petal dusts (pink and yellow)
small brush 
ruler 
pizza cutter
1" round cutter
round tip # 3
number 4 and 0 cookie cutters
INSTRUCTIONS 
Make the flowers ahead of time, at least a day before making the cake. Using white fondant, cut the flowers with the five petal rose cutter. Frill each petal and place on flower formers and leave to dry.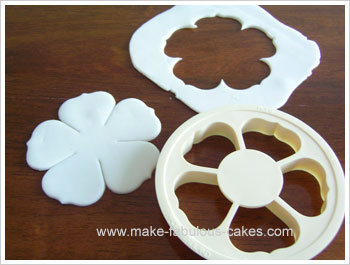 Petal dusts in pink and yellow are used to color the flower. For this project I used a pink dust called Cosmos and Buttercup for yellow. Using a small brush, dust the edges with pink color and use yellow for center.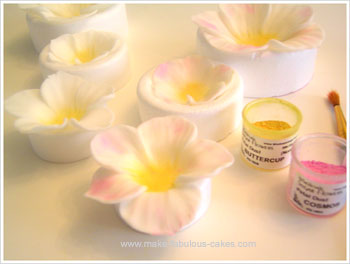 Now to the cake. After icing the cake , place in the fridge to firm it up.
Roll the pink and black fondants to about 1/8" thickness. Cut the black fondant in to 1 1/2" strips and the pink into 1/2". Attach to the side of the cake.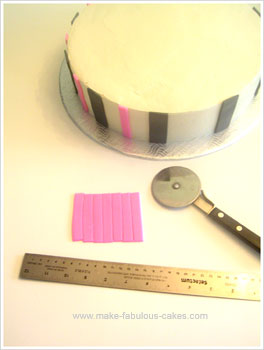 Using the round cutter, cut dots from both colors. Cut from pink fondant numbers 4 and 0. Apply to cake.
Place the flowers on the cake.
Write greetings using round tip. 
You might also like:

40th Birthday Cake Top
Home Page

›
Adult Birthday Cake Ideas
› 40th Birthday Cake
The images, tutorials and content on make-fabulous-cakes.com are protected by copyright laws. DO NOT distribute or copy the content without written permission. DO NOT edit, crop, or remove watermarks from any image or video. If you intend to use any of the text, templates or images within, it must be linked back to this site with credit given to www.make-fabulous-cakes.com. For questions contact us HERE.
Disclosure: Please note some of the links in this post may be affiliate links, I will earn a commission if you decide to make a purchase. This doesn't cost you anything additional and I truly appreciate this support, thank you!

comments powered by