30th Birthday Cake
This post may contain affiliate links. Please read my privacy policy and disclosure.
My friend had requested that I make her friend's 30th birthday cake. I said no problem and she gave me the date and other details and basically, design-wise, I can do whatever I want. I love these kind of projects when I'm given the carte-blanche as to what I can make. It's always an opportunity to try a different design or technique. But what usually happens is that I always wait until the last minute to come up with a design.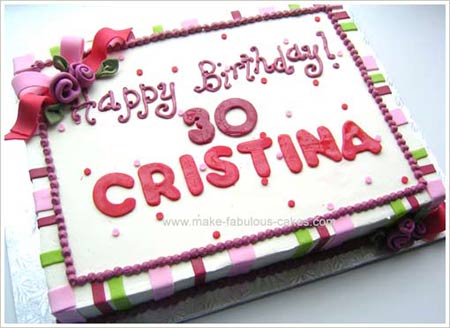 For this one, I ended up making a cake based from another adult birthday cake that I had made just before this.  Only the cake is round and it was for a man.  Then I thought to myself, 'why don't I make this my stand-by cake design?!'.  You know for those days that you can't come up with anything.
The main concept my 'stand-by cake design' is stripes and bows.  Change the colors of the stripes and bows to match gender or the recipient's favorite colors.  You can use it on any cake shape - round, square, sheet, etc. 
INSTRUCTIONS FOR MAKING 30TH BIRTHDAY CAKE
For this cake I used two 9" x 13" sheet cakes and iced it with buttercream. Once covered, leave in the refrigerator to firm up the buttercream.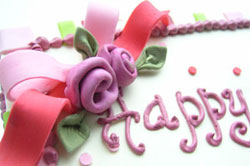 I used four colours of rolled fondant for this cake - red, lime green, dark pink and light pink.
Make a few fondant loops with the light pink and red fondants. Make fondant ribbon roses with the dark pink fondant. Using letter and number cookie cutters, cut out the name and age from the red fondant. All these can be made way ahead of time.To make the stripes on the sides of the cake, you will need to cut it from three colours of the rolled fondant - red, green and light pink.The height of the stripes depends on the cake. Measure the height of the cake then add an inch for the stripe to go up on the cake. For this cake, the height was 3", so I cut the stripes to 4".
You can play around with the width of the stripes. It can vary from 1/2" to 1 1/2". Place cut stripes randomly on the cake.
Pipe a bead border using tip # 10 on the top and bottom of the cake. Use the same tip to write the greeting "Happy Birthday!".
I originally planned to place the numbers standing up rather laid down flat but the numbers broke into 3 pieces and I didn't make any extras. So that's a lesson learned for me - always make extras!!
You might also like: 
---
30th Birthday Cake Top
30th Birthday Cake
The images, tutorials and content on make-fabulous-cakes.com are protected by copyright laws. DO NOT distribute or copy the content without written permission. DO NOT edit, crop, or remove watermarks from any image or video. If you intend to use any of the text, templates or images within, it must be linked back to this site with credit given to www.make-fabulous-cakes.com. For questions contact us HERE.
Disclosure: Please note some of the links in this post may be affiliate links, I will earn a commission if you decide to make a purchase. This doesn't cost you anything additional and I truly appreciate this support, thank you!

comments powered by