Baby Cakes
This page is all about baby cakes.  Personally, it is one of my favorite cakes to make because I like cute and sweet and dainty stuff and you can't go wrong with doing that on a baby cake.  
There are plenty of occasions that we make cakes for babies even before they are born.   A new trend that is popular nowadays are gender reveal parties.  It's another way to celebrate the coming of the new baby and the gender is often times revealed with cake.  The parents would ask the baker to color the cake inside blue or pink (for boy or girl respectively) and decorate the outside in both colors or maybe with just neutral colors.  And they reveal the gender to everyone by cutting into the cake.  Sometimes the parents does not even know themselves and that adds more to the excitement!

Of course, there is also the more traditional baby shower cakes before the baby is born. There are a lot of themes that we can get inspired from.  We can use the invitations as the inspiration for the cake.  A belly cake is also a popular choice for baby showers.  

After the baby is born, there might also be a baptism or christening cake.  For this type of cake, a cross or rosary may be added along with the usual baby decorations as a religious signification.  
And lastly, the biggest celebration for the baby will be the 1st birthday. Almost always we celebrate with a cake.  In recent years we start seeing a smash cake along with the regular cakes.  A smash cake is smaller cake or cupcake given to the baby for him or her to devour.  It really is a very special picture perfect moment.  
Popular themes for baby cakes are baby booties, buttons, teddy bears or other teddy animals, ducklings, bubbles, crying babies, rattles, baby blocks and more.  The inspiration is endless!  

Baby Cake Ideas


Mommy and Baby Princess Crown Cake
This princess crown cake has not only one, but two crowns for the two princesses honored in a baby shower - one for mommy and one for baby...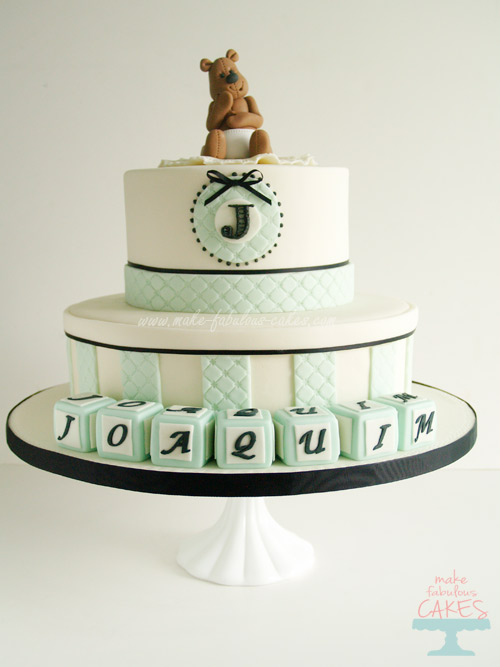 The inspiration for this baby boy's baptism cake came from the invitation.  My friend had requested for me to make a cake for their little precious boy...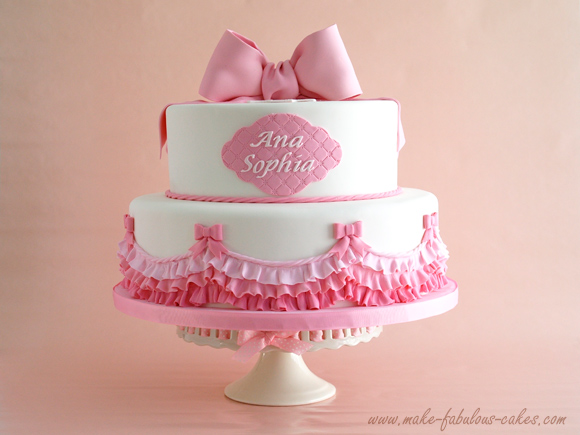 Pink Ombre Ruffles Baptism Cake
I had the honor of making a cake for a friend who was having her first little baby girl baptized.  This baptism cake couldn't get any more sweeter with its pink ombre ruffles...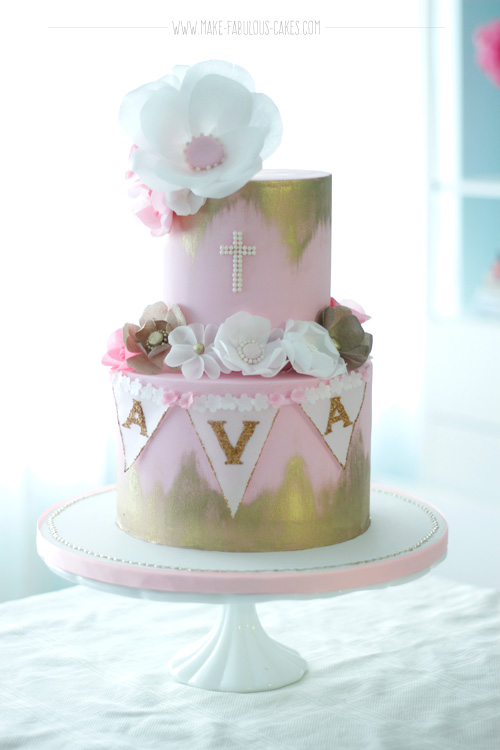 Glam Baptism Cake with Wafer Paper Flowers
I had the most pleasure of making this glamorous baptism cake for a sweet baby girl. I really love it when the client gives me carte blanche as to the design of the cake.  And I love the fact that this can be an all the way girly girl cake...

Breakfast At Tiffany's First Birthday Cake
My adorable niece turned one recently and as part of my auntly duties I have to make her first birthday cake...


Baby Cakes Top
Home Page
› Baby Cakes
The images, tutorials and content on make-fabulous-cakes.com are protected by copyright laws. DO NOT distribute or copy the content without written permission. DO NOT edit, crop, or remove watermarks from any image or video. If you intend to use any of the text, templates or images within, it must be linked back to this site with credit given to www.make-fabulous-cakes.com. For questions contact us HERE.
Disclosure: Please note some of the links in this post may be affiliate links, I will earn a commission if you decide to make a purchase. This doesn't cost you anything additional and I truly appreciate this support, thank you!

comments powered by