Fondant Loop Bow Tutorial
This post may contain affiliate links. Please read my privacy policy and disclosure.
Learn how to make a fondant loop bow to decorate your cakes with. This kind of bow have a lot of loops, just like the ready made bows that you slap on your gifts to make it more festive.
This fondant loop bow needs to be made ahead of time. So, if you want to incorporate this kind of decoration to your cake, make sure to plan and make it at least two days ahead. Gum-paste can also be used to make the loopy bow.
For this project, you will need a tube to shape the loops with. I have used carton tubes that comes with empty paper towels, aluminum foil, parchment paper etc. You can also use a wood dowel and small PVC pipes. Make sure that they are used only for this purpose and cover them with plastic cling wrap before each use.

METHOD
Roll the fondant to 1/8" thick. Use a ruler and a pizza cuter to cut strips from the fondant. For this project, I want the fondant bow to fit in a 6" cake. The strips were cut to 5 1/2" x 1".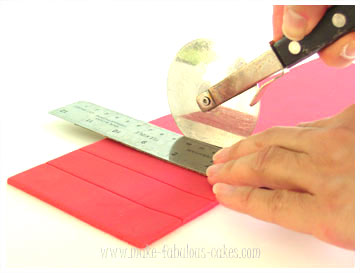 Hang the fondant strip over a tube. Moisten one edge with water and pinch them together. Let it dry a bit until it holds its shape.
Carefully take the loops out of the tube and continue drying on its side. I find that this speeds up the drying time as both sides of the loops are exposed to air. Let dry for about 24 hours.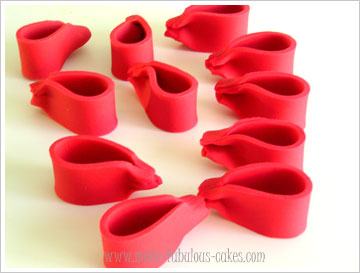 I like to assemble the loops directly on the cake. Place enough loops to create a circle. Use melted chocolate or icing in the middle to hold them together.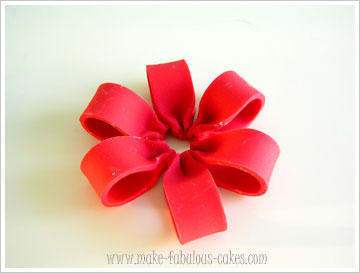 Add more loops on top.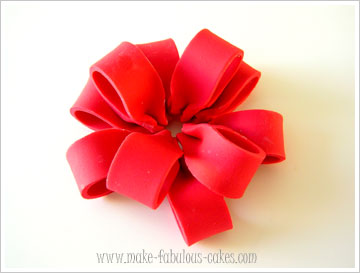 Then add the last one in the middle.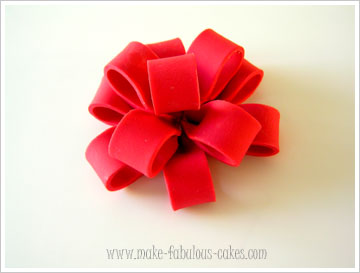 Create fondant loop streamers by pinch one edge together and cutting the other edge like a fishtail. Place the strips on a small rolling pin and let dry.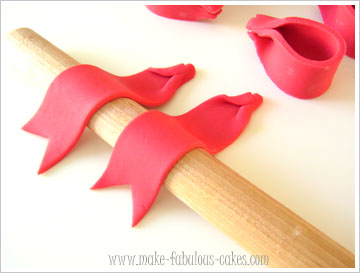 NOW LET'S ADD A CAKE TO THIS FONDANT LOOP BOW
Check out the tutorial Easy Gift Box Cake on how to make this cake below.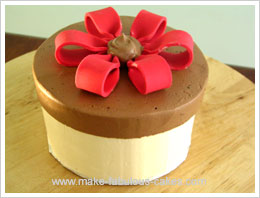 Now that was easy!  
You might also like:

Fondant Loop Bow Top
Home Page

›
Cake Decorating Techniques & Tips
› Fondant Loop Bow
The images, tutorials and content on make-fabulous-cakes.com are protected by copyright laws. DO NOT distribute or copy the content without written permission. DO NOT edit, crop, or remove watermarks from any image or video. If you intend to use any of the text, templates or images within, it must be linked back to this site with credit given to www.make-fabulous-cakes.com. For questions contact us HERE.
Disclosure: Please note some of the links in this post may be affiliate links, I will earn a commission if you decide to make a purchase. This doesn't cost you anything additional and I truly appreciate this support, thank you!

comments powered by