Chocolate Guinness Cake
For St. Patrick's Day
This post may contain affiliate links. Please read my privacy policy and disclosure.
This rich Chocolate Guinness Cake is the perfect cake to celebrate St. Patrick's Day.  The dark beer pairs very well with the luscious chocolate.  A heavenly match indeed!
Okay, I'm a wine kind of gal but on rare occasions I would have a beer every now and then. 
It has to be that kind of day where it is really hot and humid kind of day and the beer has to be a really kind of icy cold.    
But whenever I go to an Irish pub, I just gotta have my Guinness beer.  Even on a winter's day. 

I have always wanted to try to make a Guinness beer flavoured cake but in the past years I had a hard time finding this beer in liquor stores near my place. 
And I think it would be weird to go to the pub and order a pint, 'oh yes, and make that to go please!'
But finally this year, I found this beer sold in my neighborhood depanneur (what corner stores are called here in Quebec).  
They even had both the can AND the bottled versions.   Wow, we're really getting fancy in here.
I am so happy I can finally make my cake!
The Guinness beer paired really very well with chocolate.   The flavour is very subtle mind you.  The malty undertone of the beer is very similar to that of the chocolate that it is easy to miss. 
I tried to amp the beer flavour by adding Guinness to every aspect of this cake, in the cake layer, the ganache and even brushing on some Guinness simple syrup.    It was still very subtle. 
The cake is super yummy tho and the best way to eat it IMHO is with a pint of Guinness beer on the side.  
This post is not sponsored in any way shape and form by Guinness beer btw.  Although maybe they should ;)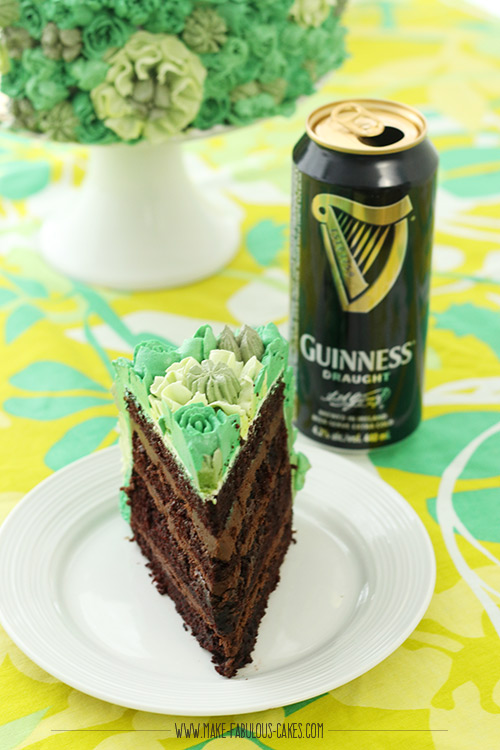 I dream of visiting the green rolling fields of Ireland one day (and drink Guinness beer in a real Irish pub!) and that is what inspired me for the decoration of this cake.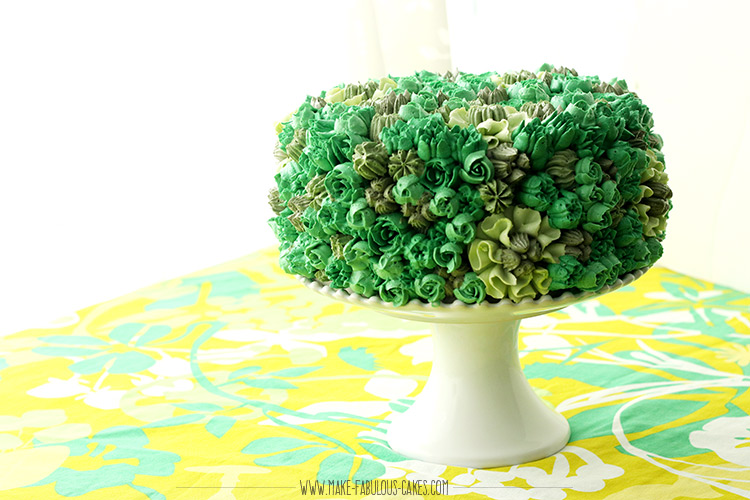 I used different kinds of Russian piping tips with different shades of green.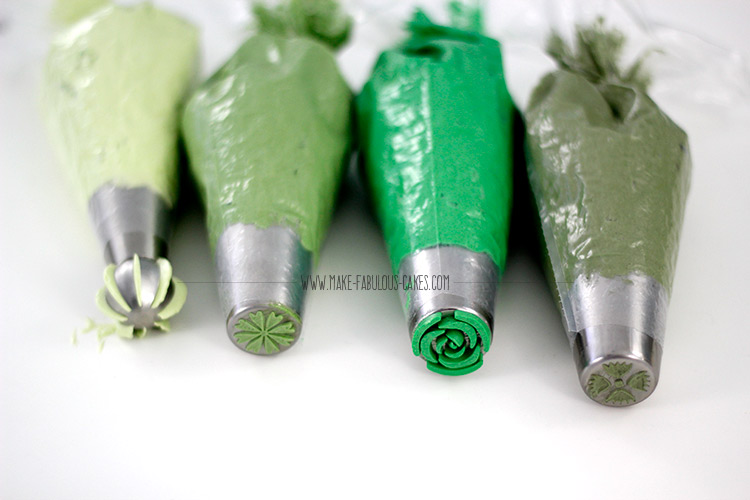 When I couldn't get a decent ruffle when I used the ball tip on the side of the cake, I decided to pipe it on a piece of wax paper and let the ruffles chill up in the freezer.  When it has firmed up, I peeled them off the paper and attached them on the side of the cake.  
Check out the video on how I made this cake so you'll see what I'm talking about. 
*Does not print in Chrome browser; pls. print in Mozilla or Internet Explorer.*

Chocolate Guinness Cake Recipe

INGREDIENTS
GUINNESS CAKE LAYER
2 cups (250 g) cake flour 
1 tsp. (6 g) salt 
2 tsp. (10 g) baking soda 
1 tsp. (5 g) baking powder 
3/4 cup (69 g) unsweetened cocoa 
2 cups (400 g) sugar 
3/4 cup (180 ml) vegetable oil 
1 cup(240 ml) hot Guinness draught beer or a local stout
1 cup (240 ml) milk 
2 large eggs
1 tsp. (4 g) vanilla 
GANACHE *
2/3 cup (150 ml) 35% heavy cream
1/2 cup (125 ml) Guinness beer
1/4 cup (60 ml) light corn syrup
16 oz (450 g) semi-sweet chocolate
1/2 cup (115 g) unsalted butter, diced
GUINNESS SIMPLE SYRUP

1/4 cup of Guinness Beer
1/4 cup of sugar
One recipe of Italian Meringue Buttercream
METHOD
GUINNESS CAKE LAYER

Preheat the oven to 350°F; and line 2 x 9" round cake pans with parchment or wax circles.
Sift together flour, salt, baking soda, baking powder, cocoa and sugar in a large mixing bowl.
Add the hot Guinness beer, oil and milk and mix it for about 2 minutes.
Scrape down the sides of the bowl and add the eggs and vanilla. Beat for 2 more minutes. This chocolate cake recipe has a very liquid batter.
Pour batter in prepared cake pans and bake for approx. 30 minutes. The cake is ready when an inserted wooden skewer or cake tester comes out clean or when cake springs back when lightly pressed with a finger.
Let the cake cool in pans for about 10 minutes. Loosen the sides with a knife or metal spatula and invert to a metal rack. Invert again to another rack to prevent the cake from splitting.
GANACHE 
*This recipe is only enough to use as filling for four layers of cake.  Make 2 recipes if you want to frost the whole cake as well. 
Put the heavy cream, Guinnes beer and corn syrup in a sauce pan and bring to a simmer.
Place the semi-sweet chocolate in a heat proof bowl.
Pour the hot cream mixture over the chocolate. Let stand for one minute.
Stir until all the chocolate is melted.
Add the butter and stir until melted as well.
Let it cool and thicken to spreadable consistency. It usually takes about 3-4 hours at room temperature.  To do this faster, place it in the fridge for 1 hour.  If the ganache becomes too thick to spread, microwave it for ten seconds to soften it. 
GUINNESS SIMPLE SYRUP
Place the Guinness beer and sugar in a sauce pan and let boil for one minute.  Cool completely before using.  
TO ASSEMBLE CAKE:
Cut each cake into two using a serrated knife.  
Place one cake layer on a cake board or serving platter and brush on some of the Guinness simple syrup.
Repeat with two more layers of cake, syrup and ganache and place the last layer of cake on top.
Crumb coat the cake with some buttercream.
Tint the buttercream with desired colours and decorate as desired.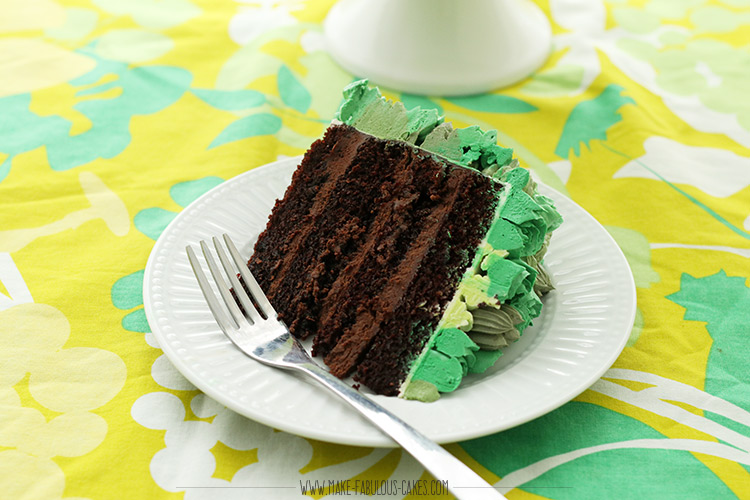 Have a great St. Paddy's day everyone! 
xoxo,

You might also like:
---
Chocolate Guinness Cake ⬆
Chocolate Guinness Cake
The images, tutorials and content on make-fabulous-cakes.com are protected by copyright laws. DO NOT distribute or copy the content without written permission. DO NOT edit, crop, or remove watermarks from any image or video. If you intend to use any of the text, templates or images within, it must be linked back to this site with credit given to www.make-fabulous-cakes.com. For questions contact us HERE.
Disclosure: Please note some of the links in this post may be affiliate links, I will earn a commission if you decide to make a purchase. This doesn't cost you anything additional and I truly appreciate this support, thank you!

comments powered by