St. Patrick's Day Cupcakes
This post may contain affiliate links. Please read my privacy policy and disclosure.
These cupcakes full of lucky four leaf clovers are the perfect treat to celebrate St. Patrick's Day.   You don't have to be Irish to enjoy these cupcakes because as they say everybody's Irish on Paddy's Day!
For these cupcakes you can make my fave vanilla cupcake recipe, or chocolate or even carrot cake, whatever recipe you like.  Frost it lightly with some buttercream and let chill in refrigerator.
To make the four leaf clovers we are going to need some green buttercream.  I like to use the gel colour Kelly Green from Wilton for a nice vibrant green.  Fill in a pastry bag with pastry tip 104 and pipe on to a piece of wax paper attached to a flower nail with some buttercream,  as shown in the video below. Pipe a center using pastry tip 2 to finish it off. 
You can place the piped leaf on a flower former to get a curved shape or just place it on a flat surface like a cake board.  Place the finished clover leaves in the freezer for about 15 minutes to firm it up.
You can also make little blossoms to place with the clover leaves on the cupcake.   You can check out how to make the buttercream blossom flowers in this video.  I used a smaller petal tip 101 to make the flowers.  I wanted the flowers to be smaller so it does not overwhelm the cupcakes; I want the clovers to be the star of this show.   Place it also in the freezer along with the leaves.
Once the clover leaves have firmed up it's now time to do the fun part – assembling it on the cupcakes.
Pipe a small dot of buttercream on the cupcake and then take a clover leaf, peel off the paper and attach it on the cupcake.  Do this until the cupcake is all covered with leaves.  Attach the blossoms on top of the leaves with dots of buttercream. 
And there you go, a cupcake that is reminiscent of the lush green Irish landscape.
Note: Keep the finished cupcakes in the refrigerator until about one to two hours before serving it.  Buttercream cupcakes are best eaten at room temperature.  Enjoy!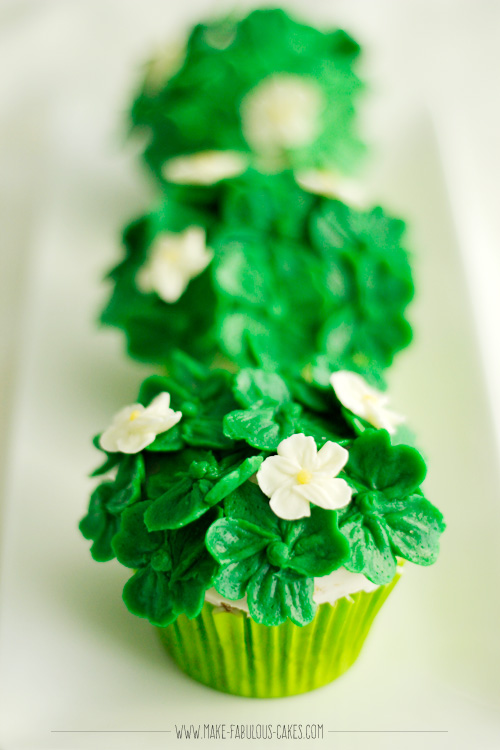 ---
Materials used in this tutorial: (Affiliate links)

---
The images, tutorials and content on make-fabulous-cakes.com are protected by copyright laws. DO NOT distribute or copy the content without written permission. DO NOT edit, crop, or remove watermarks from any image or video. If you intend to use any of the text, templates or images within, it must be linked back to this site with credit given to www.make-fabulous-cakes.com. For questions contact us HERE.
Disclosure: Please note some of the links in this post may be affiliate links, I will earn a commission if you decide to make a purchase. This doesn't cost you anything additional and I truly appreciate this support, thank you!


St. Patrick's Day Cupcakes Top of Page
Home Page

›
Holiday Cakes
› St. Patrick's Day Cupcakes
comments powered by