Nutella Mousse Chocolate Trifle
This post may contain affiliate links. Please read my privacy policy and disclosure.
Did you know that Febuary 5 is World Nutella Day? It's the seventh year running. So let's clink our spoons and celebrate with this Nutella Mousse Chocolate Trifle.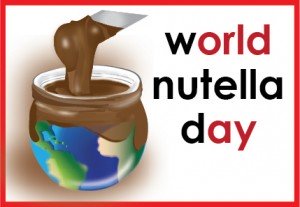 I had my first taste of Nutella when I came to Canada in the 90's. I never heard of it until then.  My first bite of this creamy hazelnut chocolate spread, it's like a different world had opened up for me.  Yeah it was that intense.  You mean I had missed this yumminess all this time while growing up? Gosh I had a lot of catching up to do.
You just can't go wrong with Nutella.  You can spread it on to anything - toast, croissant, tortillas, stale bread and even card board, and it will taste amazing!  
I used to work in an office where we always had a constant supply of coffee and Nutella in the kitchen.  Now that's a perk! I used to daintily spread Nutella with a butter knife until I saw my Italian co-worker spread a heaping spoon on her toast.  She said spooning it was just the proper way and I can't argue with that.  
This trifle cake is composed of  scrumptious layers of chocolate cake, Nutella mousse, strawberries and whipped cream.  I made one recipe of ultimate chocolate cake but you can certainly use your favorite chocolate cake or even buy it to make it simpler. 
Nutella mousse is really easy to make and it can be dessert on its own.  Just serve it up in a fancy martini glass and people will think you slaved over it the whole afternoon.  
Here is the recipe.
*Does not print in Chrome browser; pls. print in Mozilla or Internet Explorer.*

Nutella Mousse
INGREDIENTS 
1 cup (250 ml) Nutella
5 tbsp. water
2 tbsp. (30 ml) unsalted butter, softened
1-1/2 cup (250 ml) 35% whipping cream
Method: Set a heatproof bowl over a pot of hot water and melt the Nutella with water.  Mix until smooth.  Add butter until incorporated. 
Whip the cream in another bowl.  Fold a third of it over the  melted Nutella until mixed then fold in the remaining cream.  Keep refrigerated if not using right away.
---
Nutella Mousse Chocolate Trifle
---
INGREDIENTS
Nutella mousse
2-3 cups of strawberries 
Let make this trifle:
First cut up the chocolate cake into small pieces and put one layer in a trifle bowl.  
Next, top it with half of the prepared Nutella mousse.  
Cut up some strawberries and add a layer on top of the mousse.  For a nice presentation, cut up the straberries in half and place the cut side against the bowl.  
Add another layer of chocolate cake, then the remaining mousse and another layer of chocolate cake.  I did not have enough strawberries at hand but I would have loved to add another layer of strawberries.  
Topped it with whipped cream and more strawberries.
And because it's Nutella day, we will dress and bling it up with icing sugar and some silver dragees. Now dig in and enjoy!   
Happy World Nutella Day! And thanks to Ms Adventures in Italy, Bleeding Espresso for hosting the event! 
You might also like: 
---
Nutella Mousse Chocolate Trifle Top
Home Page

›
Cake Recipes
› Nutella Mousse Chocolate Trifle
The images, tutorials and content on make-fabulous-cakes.com are protected by copyright laws. DO NOT distribute or copy the content without written permission. DO NOT edit, crop, or remove watermarks from any image or video. If you intend to use any of the text, templates or images within, it must be linked back to this site with credit given to www.make-fabulous-cakes.com. For questions contact us HERE.
Disclosure: Please note some of the links in this post may be affiliate links, I will earn a commission if you decide to make a purchase. This doesn't cost you anything additional and I truly appreciate this support, thank you!

comments powered by