12 Layer Cake for 12/12/12
This post may contain affiliate links. Please read my privacy policy and disclosure.
I made this 12 layer cake a long time ago and I had delayed posting it for the 12th of December, 2012 because it just seems fitting. Problem is I waited for such a long time that I totally forgot about it. Good thing someone in my family mentioned 12/12/12 and I heard a loud 'DING!' in my head. So here I am at 10 o'clock at night, editing pictures and typing away. It might be last minute but I can still make it. Yay!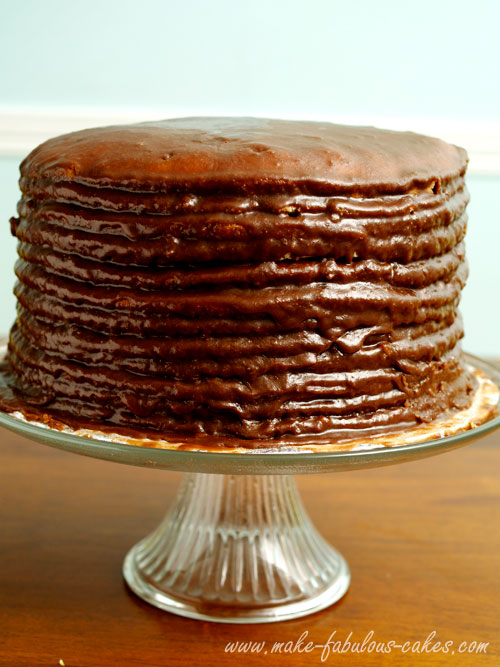 To be honest, the most layers of cake I made were 7 and it was the rainbow cake. I had to do a bit of research and settled with the recipe posted in Oprah's site. I mean if it's from America's most trusted it should be good, right?
Oh, I was so excited and after much anticipation, this is what I got...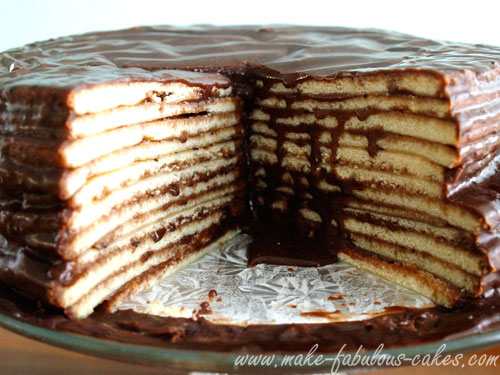 Wop...wop... wooop.... a big fail. The cake did not rise and it was 12 layers of gumminess. The icing was so thin that it just kept leaking. I really tried liking it but sorry Oprah, won't be recommending this one for my readers.
Back to googling I go, I shall not be deterred. I found another recipe for the 12 layer cake and the picture posted looked promising so I tried it. Apparently this kind layer cake with boiled chocolate icing is a southern thing, which they usually bake around the holidays. And this is a really old school recipe that has been passed from generation to generation. I've adapted the recipe to use all butter and omit the shortening.
I love this recipe; my cakes came out light and fluffy. The boiled chocolate icing can become a bit gritty but I actually liked it. Just see for yourself with these 2 cakes side by side the big difference.
I have 3 round 9" pans which work well for me. I had to do 4 batches of 3 but since the layers were thin, baking times were really fast. I lined the pans with parchment circles and just reused the same ones for the next batches.
*Does not print in Chrome browser; pls. print in Mozilla or Internet Explorer.*

12 LAYER CAKE RECIPE
FOR THE CAKE

1 1/3 cup butter, more to grease pans
2 1/2 cups granulated sugar
5 eggs
2 teaspoons vanilla
5 cups cake flour
1 teaspoon salt
2 teaspoons baking soda
5 teaspoons baking powder
2 cups milk
FOR THE FROSTING
5 cups granulated sugar
1/3 cup cocoa powder
1 stick butter, cut into pieces
1 15-ounce can evaporated milk
1/2 cup whole milk
2 teaspoons vanilla
METHOD
Preheat the oven to 350°F; and line 9" round cake pans with parchment or wax circles.
For the cake, cream butter with sugar until light and fluffy. Add eggs one at a time mixing it in after addition of each. Add in the vanilla.
In another bowl, sift the cake flour with salt, baking powder and baking soda.
Stir the flour mixture alternately with milk, beginning and ending with the flour mixture. Scrape down the sides and beat for another minute.
Pour ¾ cup of the batter in the prepared pans. Spread it carefully with a small angled metal spatula. Bake 6-8 minutes. The cake is ready when an inserted wooden skewer or cake tester comes out clean or when cake springs back when lightly pressed with a finger.
Run a knife around the cake and flip over on to a metal rack and flip again, top side should face up. Let cool.
Now repeat the baking until all batter is used. You can also weigh your batter and divide it into 12.
For the frosting, place the sugar and cocoa powder in a sauce pan. Add butter and and the milks and bring to a boil. Let it boil for 4 minutes and lower the heat to simmer. Check with a candy thermometer and take it out of the heat once it reaches 230 degrees.
To assemble, this is the fun part. With a ladle pour icing on top of a layer. Spread the icing around.
Add another layer of cake and pour icing again.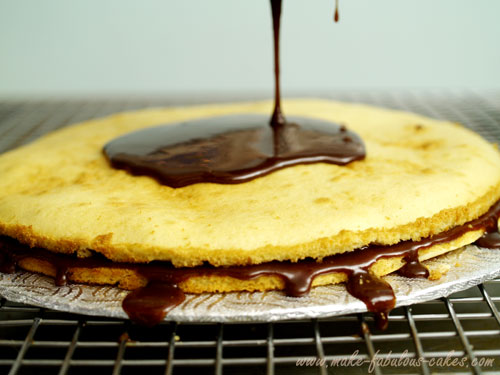 Then repeat again...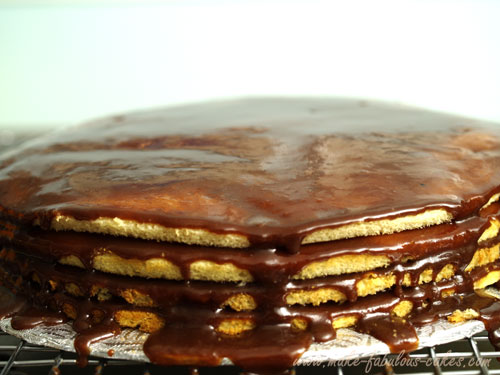 And again...
You know where I'm going with this, right? Oh yes, again...
Until you run out of cake layers.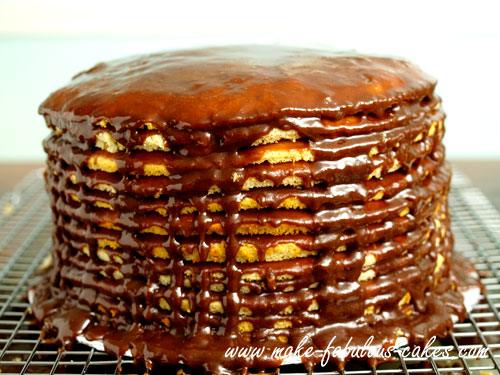 Spread the icing around, if you like.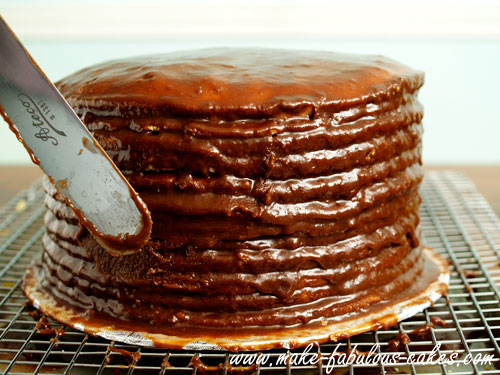 I've never been so excited to cut the cake.
Goodness gracious!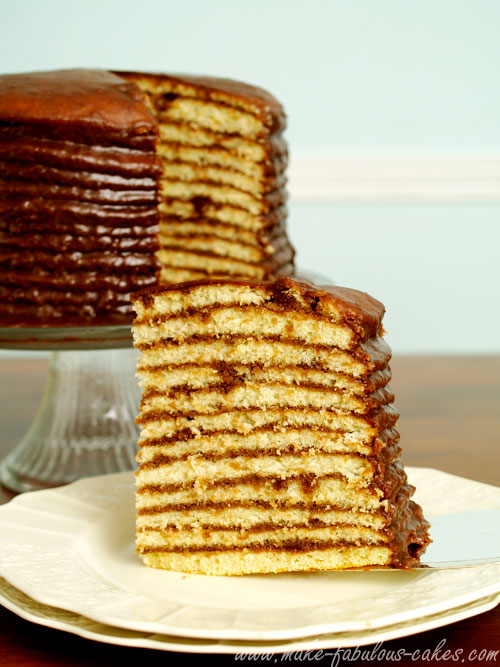 This is one impressive cake and it would be the perfect wow dessert to end a holiday meal. Feeds a lot of people too.
Just revisiting these photos brings back some good memories of me eating and totally enjoying this cake.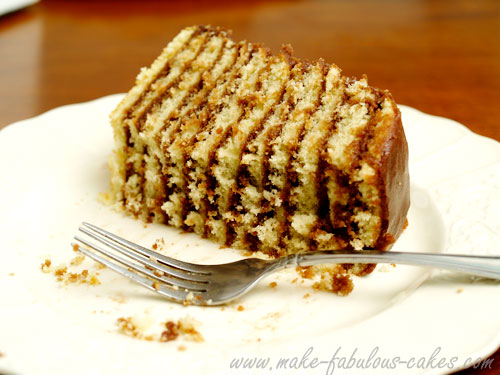 I think I'm due to making one of this baby again. Off to the kitchen I go.
---
Back to Top
12 Layer Cake
The images, tutorials and content on make-fabulous-cakes.com are protected by copyright laws. DO NOT distribute or copy the content without written permission. DO NOT edit, crop, or remove watermarks from any image or video. If you intend to use any of the text, templates or images within, it must be linked back to this site with credit given to www.make-fabulous-cakes.com. For questions contact us HERE.
Disclosure: Please note some of the links in this post may be affiliate links, I will earn a commission if you decide to make a purchase. This doesn't cost you anything additional and I truly appreciate this support, thank you!

comments powered by