Kids Birthday Cakes
Kids birthday cakes are fun to make! Here are some birthday cake pictures to get inspired from. The best ideas you can get from are from your little boss, they usually know what they want!
Character cakes are usually a big hit with kids. Each age group have their own favorites. You can make the cake to set the stage for the character and buy the characters from a specialty cake decorating or party store. Or you can buy the pan and make the character out of cake.
Are your kids involved in any sports? That's another idea for a kids birthday cake. Make a ball cake - it can be a basketball, soccer, baseball, football or any other sport that your child taking part of.
Sometimes special requests are made to make the birthday cake match the theme of the party. There are hundreds of kids birthday party themes, these includes princess, tea parties, circus, farm or barnyard parties and so much more!
First birthdays are very special occasions as it marks a milestone in the child's life. A great addition to the 1st birthday cake is a smash cake. Smash cakes are a smaller version of the birthday cake just for the birthday boy or girl to enjoy. The time when the little one attacks the cake are great picture moments.
Get inspired and start making the most awesome birthday cake that your little ones will flip over with!

Here are some kids birthday cake ideas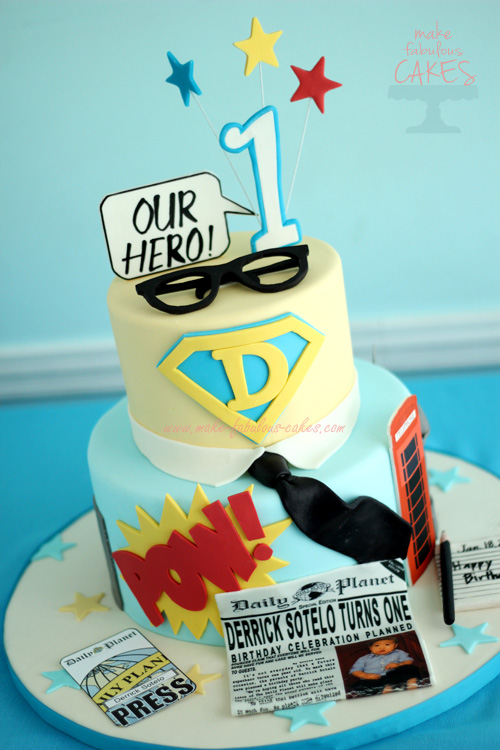 Superman Cake for a Clark Kent Birthday Party 
I am so honoured to have made this Superman cake for this special little superboy. I was deeply touched when I was told the story...

Pink and Gold Princess Tea Party
Check out this pink and gold princess tea party for a special little girl's first birthday.


This first birthday cake has all the ingredients for a perfect little cake for a perfect little girl. Flowers and bows and a dainty pink color makes it all that sweet...


Here's a special princess cake for your little royalty. A pillow cake sits on top of a round cake adds that majestic touch. Different shades of the celebrant's favorite color, pink, was used...

I made this mad hatter cake for my dear daughter's 9th birthday a few years ago. It was a memorable cake because I made a lot of of firsts on this cake. It was the first time I tried carving a cake...


I don't know why it took me so long to try my hand at making a castle cake. Maybe because the occasion never arises. Nah, if I really wanted to make one, I'll find a reason to make it. My nephew's birthday was coming up...


To be quite honest, although I was looking forward to making this car cake, I was actually nervous about doing it. The first time I attempted making a car cake, it really didn't turn out the way I had envisioned it to be...

I jumped upon this opportunity to make a ladybug birthday cake for a sweet little girl's 2nd birthday when the mom asked me. I find ladybug birthday parties very cute and I even wanted to...


Kids Birthday Cakes Top
Home Page
› Kids Birthday Cakes
The images, tutorials and content on make-fabulous-cakes.com are protected by copyright laws. DO NOT distribute or copy the content without written permission. DO NOT edit, crop, or remove watermarks from any image or video. If you intend to use any of the text, templates or images within, it must be linked back to this site with credit given to www.make-fabulous-cakes.com. For questions contact us HERE.
Disclosure: Please note some of the links in this post may be affiliate links, I will earn a commission if you decide to make a purchase. This doesn't cost you anything additional and I truly appreciate this support, thank you!

comments powered by