First Birthday Cake for a Girl

This post may contain affiliate links. Please read my privacy policy and disclosure.
This first birthday cake has all the ingredients for a perfect little cake for a perfect little girl. Flowers and bows and a dainty pink color makes it all that sweet.
INSTRUCTIONS FOR FIRST BIRTHDAY CAKE FOR A GIRL
YOU WILL NEED:
2 cakes - 6" and 9" round
buttercream (uncolored and pink and a bit of brown)
fondant (in white, light pink & dark pink)
small flower cutters
gum paste ball tool
clay gun

METHOD

The day before the cake is to be assembled, make 2 large fondant bows and one small one from light pink fondant. Make extra for breakage.
Cut some flowers from white and pink fondants. Place on a foam. Thin and cup it by using a gum paste ball tool in a circular motion. Set aside.
Print out on a piece of paper a large number 1. Cut this and use this as a guide to cut on the fondant. Roll our the fondant a bit thick between 1/8" and 1/4". I used an exacto knife to trace the number 1 on the fondant. Let dry.
Fill and frost 6" cake with uncolored BC. Then color the rest of the buttercream pink and use it for the 9" cake. Place both cake in the fridge to firm up the frosting.
Cut stripes of random widths from the white and dark pink fondant. Place on the bigger cake.
Stack the 6" on top of the 9" cake.
For the borders, you need to make fondant ropes. To make it, place dark pink fondant in the clay gun. Using the trilobe attachment, squeeze out a long log of fondant.
To make longer logs, when you are almost half way through the barrel of the clay gun, just open it up and add some more fondant, close it then squeeze some more.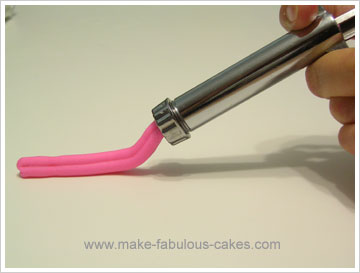 Once the log is ready, roll up one end going upwards then roll up the other end going downwards. Place the rope on the cakes.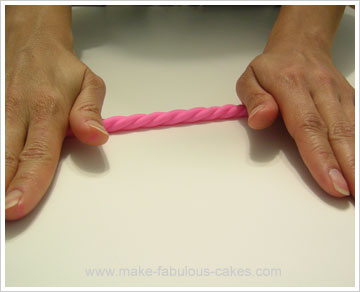 Place the flowers and bows on the cake as pictured. Using brown buttercream and a small round tip, add a dot in the center of the flowers.
Roll out some white fondant and cut a long rectangle. Write the greeting using brown buttercream.

First Birthday Cake -Girl Top
Home Page

›
Kida Birthday Cakes
› First Birthday Cake -Girl
The images, tutorials and content on make-fabulous-cakes.com are protected by copyright laws. DO NOT distribute or copy the content without written permission. DO NOT edit, crop, or remove watermarks from any image or video. If you intend to use any of the text, templates or images within, it must be linked back to this site with credit given to www.make-fabulous-cakes.com. For questions contact us HERE.
Disclosure: Please note some of the links in this post may be affiliate links, I will earn a commission if you decide to make a purchase. This doesn't cost you anything additional and I truly appreciate this support, thank you!

comments powered by