Halloween Eyeball Flower Cake
This post may contain affiliate links. Please read my privacy policy and disclosure.
Looking from the side, this Halloween Eyeball Flower Cake looks like another unassuming cake with buttercream flowers.  Then you look at the top and you'll come to a ghoulish realization that the flower centers are actually eyeballs (gasp)!
Why do I get this creepy feeling that someone is looking at me :o
Check out this video on how it was made.
To make this cake you will need:
1 recipe of Yellow Cake baked in 2 x 8" pans
1 recipe of Italian Meringue Buttercream
Electric Green Americolor Gel Paste Food Color
Violet Wilton Icing color
Gummy Eyeballs (I got mine from a local candy supply store,Bulk Barn)
Flower Nail 
Pastry bags
Couplers
Pastry tip 121(or any other petal tip)
Leaf tip 352
Flower Lifter
Squeeze Bottle
Slime Filling
1 box (32g) of white chocolate Jello pudding
Electric Green Americolor Gel Paste Food Color
-Prepare the pudding as per instructions on the box.  Add a few drop of the green colouring and mix well until the consistency is thick.

Ganache Drip
1/4 cup of whipping cream
1/2 cup Orange Candy Melts
-Place whipping cream and Candy Melts in a microwave safe dish.  Microwave for 30 seconds at a time until cream is hot and the Candy Melts are melted.  Mix until well blended.  Cool completely before using. 

Edible Blood
1 tbsp Clear Piping Gel
Red gel food colouring
Corn syrup
- Add a few drops of the red gel colour to the piping gel and mix.  Add some corn syrup to thin it down a bit.  Place in a piping bag with very small cut opening or a small round pastry tip like #2 or #3. 

Make one recipe of the Yellow Cake and divide in two 8" pans lined with parchment paper (use butter of oil on the bottom of the pan to make the paper stick).  Colour one pan with the Violet gel colour and the other pan with the Electric Green.  Mix well using a rubber spatula and make sure to scrape down the corners of the pan so that there won't be any uncoloured batter.  Bake as per instructions and cool.

Take 2-1/2 cups of IMBC and tint it with Violet gel colour.  Take another 2-1/2 cups and colour it green.  Place each colour in its own pastry bag fitted with a coupler.
Cut each cake into two using a serrated knife.  Place one layer of cake on to a cake board or platter.  Pipe a dam of buttercream all along the outer edge of the cake.  Fill the center  with the "slime filling" and spread it evenly with an offset spatula.  Place another layer of cake with a different colour and repeat filling and alternating cake layers. 

To create the buttercream stripes on the side of the cake, alternately pipe the 2 colours of buttercream.  Use a bench scraper to smoothen the stripes and an offset spatula to smoothen the top.  Place the cake in the refrigerator to chill.
Place the orange ganache in a squeeze bottle with a narrow tip and start adding the drip near the top edge of the cake. Make sure that the cake is in the final board or platter before doing the drip. I forgot to transfer it on the cake stand and it was a bit tricky/messy moving it once the drip is on. 
If you don't have a squeeze bottle for the ganache, you can also use a spoon to spread the ganache on the cake and push it to the edge of the cake to make the drip.
To make the eyeball flowers, take some of the uncoloured buttercream and place it in a pastry bag fitted with pastry tip #121.  Pipe a small mound of buttercream in the center of the flower nail.  Place a gummy eyeball on top.  Start piping the petals all around the eyeball. 
Use the flower lifter to carefully transfer the flower on to top of the cake.  Repeat 8 more times and place it all around the cake.
Pipe some leaves for each flower using pasty tip #152. 
To make the eyeball center extra freaky, pipe some edible blood all along the sides of the eyeball. 
Now serve this cake in a ghoulish buffet with some zombie fingers and get your spook on.
Don't forget to check out the Zombie Finger Cookies to add more gore to your sweets table!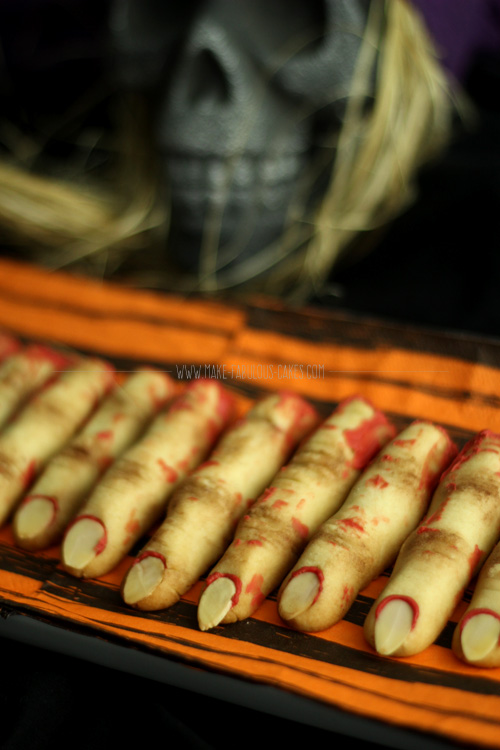 Happy Halloween folks! And stay safe!
Freakingly yours,

The images, tutorials and content on make-fabulous-cakes.com are protected by copyright laws. DO NOT distribute or copy the content without written permission. DO NOT edit, crop, or remove watermarks from any image or video. If you intend to use any of the text, templates or images within, it must be linked back to this site with credit given to www.make-fabulous-cakes.com. For questions contact us HERE.
Disclosure: Please note some of the links in this post may be affiliate links, I will earn a commission if you decide to make a purchase. This doesn't cost you anything additional and I truly appreciate this support, thank you!

comments powered by