Classic Yellow Cake Recipe
This post may contain affiliate links. Please read my privacy policy and disclosure.
I have always been on the look out for a good yellow cake recipe and I think I finally found it.
My criterias for a good yellow cake recipe are that:
it has to be moist and not too dense
it has to have a nice buttery and vanilla flavor but should not be greasy
it also have to be made from scratch
I have tried many yellow cake recipes and most fell short of my criterias. Some are lacking in the moist department while others lack in flavor. Some are very moist but is just too dense for my taste. I like my cakes on the slightly fluffy side.

I found a recipe of a classic yellow cake from celebrity cake designer Sylvia Weinstock's book Sweet Celebrations: The Art of Decorating Beautiful Cakes . At last, I think I finally found the yellow cake recipe that has a check mark on everything on my list. It is moist, has a mellow butter flavor, not greasy and made from scratch. It is not too dense, it just have the right amount of fluff to it.
I tweaked that recipe a bit and switched one ingredient, sour cream, for regular milk. The sour cream in the original recipe imparts a slightly tangy flavour to the cake. Although I like it and it doesn't really bother me, it might bother other people. Hence, I replaced it with milk instead. And milk is more readily available to me anyway; I always have it in hand.
This recipe might be a bit more work than the others because the eggs have to be separated and the eggwhites have to beaten separately to soft peaks. But I think this step is worth the extra effort. It is what gives the "fluff" to the cake. But by no means it is as light as a sponge or angel cake.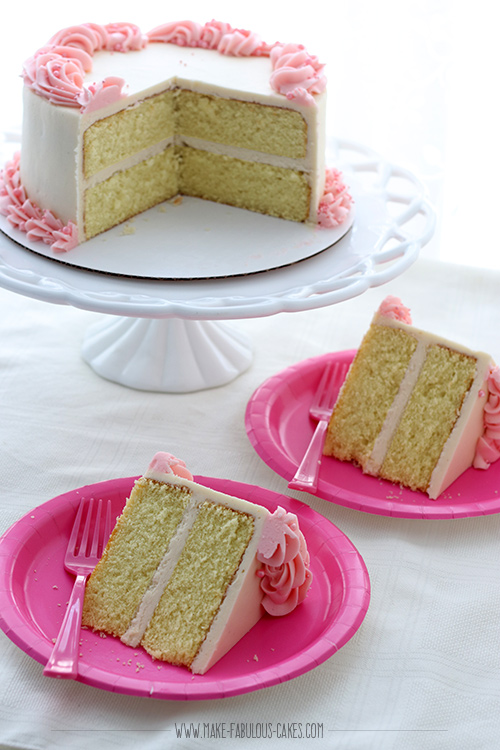 A yellow cake is very versatile and you can pretty much dress it up with anything. I use different versions of this buttercream recipe a lot with this yellow cake. Torte the cake and add any curd filling, pastry cream with fruits or jam.
Hope you'll like it as much as I did!
*Does not print in Chrome browser; pls. print in Mozilla or Internet Explorer.*

Classic Yellow Cake Recipe
INGREDIENTS
2 1/4 cups (281 g) cake flour
2 tsp. (10 g) baking powder
1/2 tsp. (3 g) salt
1 cup (2 sticks) (227 g) butter
2 cups (400 g) sugar
4 eggyolks
2 tsp. (8 g) vanilla
1 cup (240 ml) milk
4 eggwhites

METHOD
Preheat the oven to 350°F; and line 2 x 9" round or one 12" cake pans with parchment or wax circles.
Sift cake flour, baking powder and salt.
In another bowl with a mixer, cream butter and sugar together for about 2 minutes. Add eggyolks one at a time, mixing it in after addition of each. Add in the vanilla.
Stir the flour mixture alternately with milk, beginning and ending with the flour mixture. Scrape down the sides and beat for another minute.
Beat the eggwhites in another bowl until soft to medium peaks. Make sure bowl and whisk are clean and grease free. Fold half the eggwhites to the batter to temper it. Then fold in the rest of the eggwhites.
Pour batter in prepared cake pans and bake for approx. 45 minutes for the 9" cake pan or 60 minutes for the 12" pan. The cake is ready when an inserted wooden skewer or cake tester comes out clean or when cake springs back when lightly pressed with a finger.
Let the cake cool in pans for about 10 minutes. Loosen the sides with a knife or metal spatula and invert to a metal rack. Invert again to another rack to prevent the cake from splitting.
Adapted from Sweet Celebrations: The Art of Decorating Beautiful Cakes by Sylvia Weinstock.

Yellow Cake Recipe Top
Home Page

›
Cake Recipes
› Yellow Cake Recipe
The images, tutorials and content on make-fabulous-cakes.com are protected by copyright laws. DO NOT distribute or copy the content without written permission. DO NOT edit, crop, or remove watermarks from any image or video. If you intend to use any of the text, templates or images within, it must be linked back to this site with credit given to www.make-fabulous-cakes.com. For questions contact us HERE.
Disclosure: Please note some of the links in this post may be affiliate links, I will earn a commission if you decide to make a purchase. This doesn't cost you anything additional and I truly appreciate this support, thank you!

comments powered by