Cupcake in a Jar
This post may contain affiliate links. Please read my privacy policy and disclosure.
When I was making loot bags for my 40th birthday party, I wanted to make cupcakes as part of my give-aways.  The problem was I didn't have the right packaging to place them in the bags without destroying cupcakes.  Enter Cupcake in a Jar.
It's so easy - just bake some cupcakes, slice them up, layer them in the jar with some kind of frosting or filling and voila – easy homemade goodness.  It's also a great way to use those cake scraps and extra buttercream or ganache.  You can also add fruits, jam or any other kinds of fillings.
After making them,  eat one and give the rest away.  Give it to your neighbors, your kid's teachers, the mailman…just give!  Believe me they will love you for it :)
HOW TO MAKE CUPCAKE IN A JAR
You will need:
12 chocolate cupcakes
12 vanilla cupcakes
Strawberry buttercream
Piping bag with star tip
Confetti, sprinkles or other edible decorations
24 mason jars(4 oz. or 125 ml size)
For this project, I wanted to have Neopolitan flavor.  Neopolitan flavors are chocolate, strawberry and vanilla.   I made half a recipe of Ultimate Chocolate Cake and also half a recipe of Yellow Cake and baked it in muffin tin with cupcake liners.  I then made strawberry flavored buttercream and placed it in a piping bag with a star tip.
Note: I have also tried baking directly in the jar and it came out good. No need to use liners but grease the jar with some butter. 

Take one each of the chocolate and vanilla cupcake.  Take it out of the liner and cut it in half.  

Place one piece of vanilla cupcake inside the jar.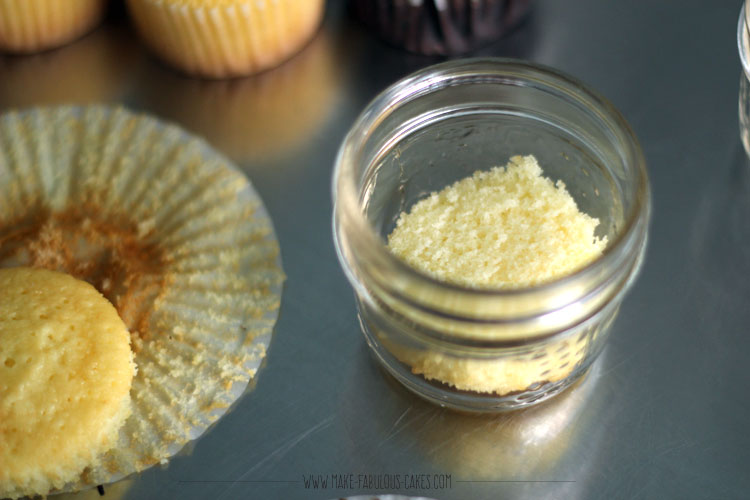 Pipe a thin layer of buttercream.  You can also add some fruit if you like.

Place a piece of chocolate cupcake on top.  Push it down if needed to make space on the top.

Pipe another swirl of buttercream.   Decorate with some edible decorations like edible confetti, sprinkles, fondant flowers, etc.  

For this project, I wanted to express my thanks to my guests who came to my birthday.  I used the lid of the jar as my template and traced that on to scrapbooking paper.  I then asked my dear daughter to cut it for me (you can do this yourself, really). I then wrote "thank you" on each one. 
The jar cover has two parts, so I just sandwiched the paper in between them.  I got some mini spoons from the dollar store and attached it the to the jar with clear tape and wrapped some baker's twine around it to finish. 

It's so simple and yet it looked like you slaved over it for a long time.  Cupcake in a jar is great for gifting, party giveaways or just a fun way to eat cupcakes.  
Enjoy!
xoxo,

---
Cupcake in a Jar ⬆
Cupcake in a Jar
The images, tutorials and content on make-fabulous-cakes.com are protected by copyright laws. DO NOT distribute or copy the content without written permission. DO NOT edit, crop, or remove watermarks from any image or video. If you intend to use any of the text, templates or images within, it must be linked back to this site with credit given to www.make-fabulous-cakes.com. For questions contact us HERE.
Disclosure: Please note some of the links in this post may be affiliate links, I will earn a commission if you decide to make a purchase. This doesn't cost you anything additional and I truly appreciate this support, thank you!

comments powered by