Chocolate Muffins
This post may contain affiliate links. Please read my privacy policy and disclosure.
I'm not a jump-out-of-bed-when-I-wake-up type of person.  When I have the alarm on, it would take a few hittings of the snooze button before I would finally get up.  I'm not a morning person but motherhood had forced me to become one.  When dear hubby is off from work, I would take advantage of that and wake up a bit more leisurely.  On those days, it would take something special to get me out of bed early. But the smell of freshly baked chocolate muffin would do that to me. 
If you follow my posts you would know that dear hubster used to be a muffin guy in the earlier days.  Actually, that was how I met him. He's working now as a firefighter and has become intolerant to gluten (nothing life-threatening though) but every now and then he misses making muffins.
Today, I got a nice surprise and woke up to these chocolate muffins.  Hubster is such an intuitive muffin maker.  He has been making muffins for so long that he can even make muffins without measuring the ingredients, probably even with his eyes closed.  Honestly, I am slightly envious of that.
I asked him to write down the recipe for this chocolate muffin for me. It's funny how he just writes a pinch of baking soda and not even sure how much cocoa he added.   I would ask him - how big is your pinch? – obviously your pinch is bigger than my pinch.  He guestimated it to be 1/2 tsp, he said it doesn't need much baking soda.  And the cocoa, we settled on 1/2 cup, too.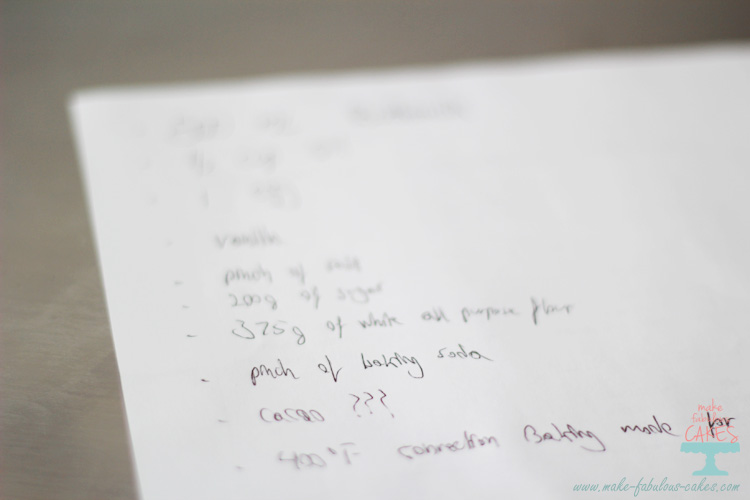 The trick for nice, big muffin tops is to fill muffin tin with the mix up to the top.  This way it will overflow and bake up high. Hubster also mentioned that muffins bake best in the convection oven mode.  He does not like using muffin liners but feel free to use one if it is easier.
*Does not print in Chrome browser; pls. print in Mozilla or Internet Explorer.*

Chocolate Muffin Recipe
INGREDIENTS
2 cups (500 ml) buttermilk
1/2 (125 ml) cup oil
1 egg
1 tsp vanilla
Pinch of salt
1 cup (200 g) granulated white sugar
2-3/4 cups (375 g) all purpose flour
1/2 tsp, baking soda
1/2 cup (45 gr) cup cocoa
1/2 cup (88 gr) chocolate chips (optional)
METHOD

Preheat oven to 400 F.  Grease muffin tin well with butter.  Skip this step if using muffin/cupcake liners.
In a big bowl mix buttermilk, oil, egg, vanilla, salt and sugar.  Mix well with a whisk. 
In another bowl, sift the flour baking soda and cocoa together.
Add the dry ingredients to the wet and mix with a rubber spatula or wooden spoon. 
Fold in chocolate chip if using.  Do not overmix.
This recipe make 6 ginormous muffins.   
What is your favorite muffin?  Leave a comment below!
Sweet regards,

---
Chocolate Muffins ⬆
Chocolate Muffins
You might also like: 
The images, tutorials and content on make-fabulous-cakes.com are protected by copyright laws. DO NOT distribute or copy the content without written permission. DO NOT edit, crop, or remove watermarks from any image or video. If you intend to use any of the text, templates or images within, it must be linked back to this site with credit given to www.make-fabulous-cakes.com. For questions contact us HERE.
Disclosure: Please note some of the links in this post may be affiliate links, I will earn a commission if you decide to make a purchase. This doesn't cost you anything additional and I truly appreciate this support, thank you!

comments powered by