Red Velvet Cake Recipe
This post may contain affiliate links. Please read my privacy policy and disclosure.
This is a classic Red Velvet Cake Recipe and frosted with an equally velvety cream cheese Italian meringue buttercream.  This one is a sure winner :)
Red Velvet cakes are not a staple in where I live in this French part of Canada.  So the first time I heard about it was maybe about 10 years ago (thanks to the Internets).  I tried a recipe that was posted online and since I've never tasted one before so I couldn't compare it, I really wasn't sure how I felt about it. 
I was a bit confused that it wasn't truly a chocolate cake nor was it a vanilla cake and then throw in the red colour in there, it was a bit too much for me to process. 
BUT I did like that the go to frosting was with cream cheese.  I mean you really can't go wrong when you have cream cheese frosting on anything (even a cardboard).  
Now, Red Velvet cake has made its way up here and any cupcake place would not be complete without it.  It is also one of my most ordered cake flavour.
Mind you, I am still on the fence on how I feel about it but I would eat anything with cream cheese frosting, so there it is.  
Leaving feelings aside, let's talk about the cake.
I like how this cake is moist and has a nice fine crumb.  When I started making red velvet cakes, I was using the basic red liquid food colouring that you find in the grocery store.  You have to use like 1-2 oz of that thing to get a dark colour for your cake.  Yikes! And I find that the colour is more like a burgundy than a red.
Then I discovered Chefmaster Liqua-Gel Food Color Super Red; you only need one teaspoon and you get this rich beautiful red colour for the cake.   Actually I use this colouring any time I need a red colour, in cakes, or buttercream.  I like it because it doesn't take much of it to get to a red colour and it doesn't have an aftertaste. 
And for the frosting, you can use two times of this cream cheese frosting.  That was how I was frosting this cake before.  But then I discovered cream cheese Italian meringue buttercream (IMBC) and this has changed my life. 
Cream cheese IMBC is just the smoothest cream frosting that I have ever tasted, so velvety, perfect for this red velvet cake.  But this frosting can be a bit temperamental and it took me quite a few tries to get a pretty stable frosting that you can also pipe with. 
Make sure to beat the cream cheese first until it is lump free.  Then add in the IMBC, a bit at a time, incorporating it well.  Don't be tempted to add more IMBC as the recipe calls for as this will make the frosting to curdle. 
Also note that this frosting is not as firm as regular IMBC, the consistency is more like a medium-soft peak whipped cream. But it is firm enough to pipe basic bead or shell borders.
Here is a quick video on how I mounted and decorated the cake. 

This red velvet cake recipe can also be made into cupcakes; it will yield about 24 regular sized cupcakes.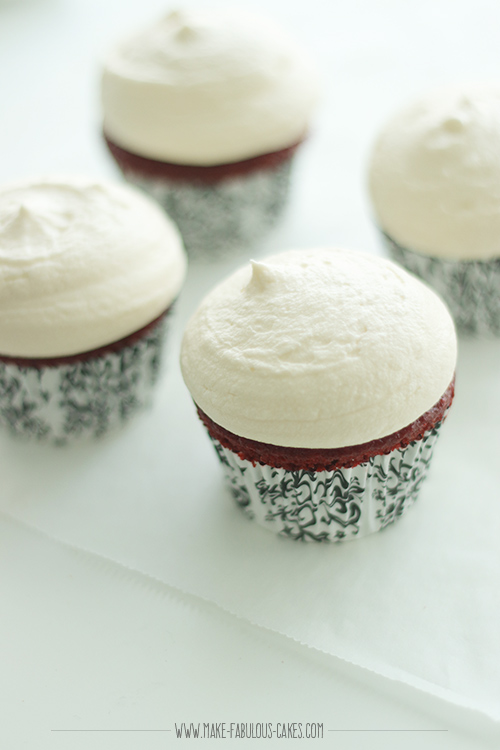 ---
*Does not print in Chrome browser; pls. print in Safari, Mozilla or Internet Explorer.*

RED VELVET CAKE RECIPE
INGREDIENTS
Cake
2-1/2 cups (315 g) cake flour
3 tbsp (15 g) cocoa
1 tsp salt
2 cups (400 g) granulated sugar
2 large eggs
1 cup (250 ml) oil
1 tsp vanilla
1 cup (250 ml) buttermilk
1 tsp Chefmaster Liqua-Gel Food Color Super Red
1 tbsp vinegar
1 tsp baking soda
Cream Cheese Italian Meringue Buttercream
4 eggwhites (to measure 4 oz or 120 ml)
1  cup (200 g) + 1/4 cup (50 g)  granulated sugar
1/4 cup water
3/4 cup (6 oz or 170 g) butter, cut up in small squares
1 tsp vanilla
16 oz (500 gr) cream cheese
METHOD
   CAKE
Preheat oven to 350°F. Prepare two 8"pans lining with parchment.

Sift together cake flour, cocoa and salt in a bowl.  Set aside.

In another bowl, whisk together the sugar, and eggs until creamy.

Slowly pour in the oil until well mixed.  Add in the vanilla.

Stir in the red colouring to the buttermilk.

Mix in the flour mixture alternately with milk, beginning and ending with the flour mixture. Scrape down the sides and beat for another minute.

Mix together the vinegar and baking soda.  Let it fizz a bit and pour it in the batter, whisk until well blended.

Divide the batter between the two pans and bake for approximately 40-45 minutes.

The cake is ready when an inserted wooden skewer or cake tester comes out clean or when cake springs back when lightly pressed with a finger.

Let the cake cool in pans for about 10 minutes. Loosen the sides with a knife or metal spatula and invert to a metal rack. Invert again to another rack to prevent the cake from splitting.
  CREAM CHEESE ITALIAN MERINGUE BUTTERCREAM
In a saucepan, combine 1 cup of sugar and water and heat until bubbly.

Beat the eggwhites until soft peak have formed and slowly add the remaining 1/4 cup of sugar. Beat until stiff peaks have formed.

Back to the syrup, bring it to a boil until a candy thermometer registers 248 degrees F (firm ball stage). At this stage, bigger bubbles are formed while boiling.

With the stand mixer on high speed, pour the syrup on to the sides of the bowl, careful not to pour it on the beaters. When all the syrup has been added, lower the speed and let it beat until completely cool.

Add the butter a piece or two at a time. It will sometimes come to a point where it looks curdled, just increase the speed slightly and continue beating until smooth.

Add the vanilla.

At this stage, you just made Italian Meringue Buttercream (IMBC).  Take it out of the bowl of the stand mixer. Set it aside.

Put the cream cheese in the bowl.  No need to clean or wash the bowl. Whisk until soft and has no chunks.

Take three cups of the IMBC and it in slowly, half a cup at a time to the cream cheese. Whisk each addition until well mixed.
ASSEMBLY
NOTES
In the video, the same bag with just the coupler was used to pipe shells around the cake. 

Take the cake scraps of the red velvet cake and crumble it and use it to decorate the cake. 
This cake recipe can also be used to make cupcakes, it will yield about 24 regular cupcakes. 
So, tell me do you like Red Velvet cakes? Let me know and comment below! 
Cheers,


Red Velvet Cake Recipe Top
Home Page

›
Delicious Cake Recipes
› Red Velvet Cake Recipe
The images, tutorials and content on make-fabulous-cakes.com are protected by copyright laws. DO NOT distribute or copy the content without written permission. DO NOT edit, crop, or remove watermarks from any image or video. If you intend to use any of the text, templates or images within, it must be linked back to this site with credit given to www.make-fabulous-cakes.com. For questions contact us HERE.
Disclosure: Please note some of the links in this post may be affiliate links, I will earn a commission if you decide to make a purchase. This doesn't cost you anything additional and I truly appreciate this support, thank you!

comments powered by