Father's Day Cake:
Bow Ties for Dad
This post may contain affiliate links. Please read my privacy policy and disclosure.
Here is a simple and easy Father's day cake that you can make to celebrate dad.  If your dad is into bow ties, then you'll score double points for this bow tie inspired cake.
I got the inspiration for this cake while browsing thru a fashion catalogue that I got from my junk mails.  I think bow ties are very charming and the funkier and more colorful it is the better.
In my previous post, I showed how to make a polka dot gum paste bow.  
For this cake, I made two bow ties in different colors.  I also made the tails about 1" thick in the same colors and stitched one side with a stitching wheel . 
For the greeting "Happy Father's Day" I used the  FMM Block Alphabet Tappit Cutters.  Cutting the letters really tested my patience to make it nice and clean. I used 50/50 fondant/gum paste mix and maybe this contributed to my frustration.  For this type of cutters, it is really best to use straight up gum paste (just like the directions said so in the first place :P).
For the bottom border, I cut small strips of each color - blue, yellow and green.  I used the smallest setting that I can get from the FMM Ribbon Cutter, I did not even use one of the loose spacers.  It came to about 1/4" thickness.  Since the cake is an 8" square, I cut 4 strips of 8" per color.   I brushed water on the bottom of the fondant covered cake and added one strip of color at a time per side.  I used a bench scraper to make the lines straight.  After adding a strip for all sides, I then proceeded with the other colors. 
And that is it!  You can totally decorate this cake in less than half a day.  Because the less time you make the cake, the more time you can spend with dad.  
Click on the picture below to check out how to make a polka dot gumpaste bowtie: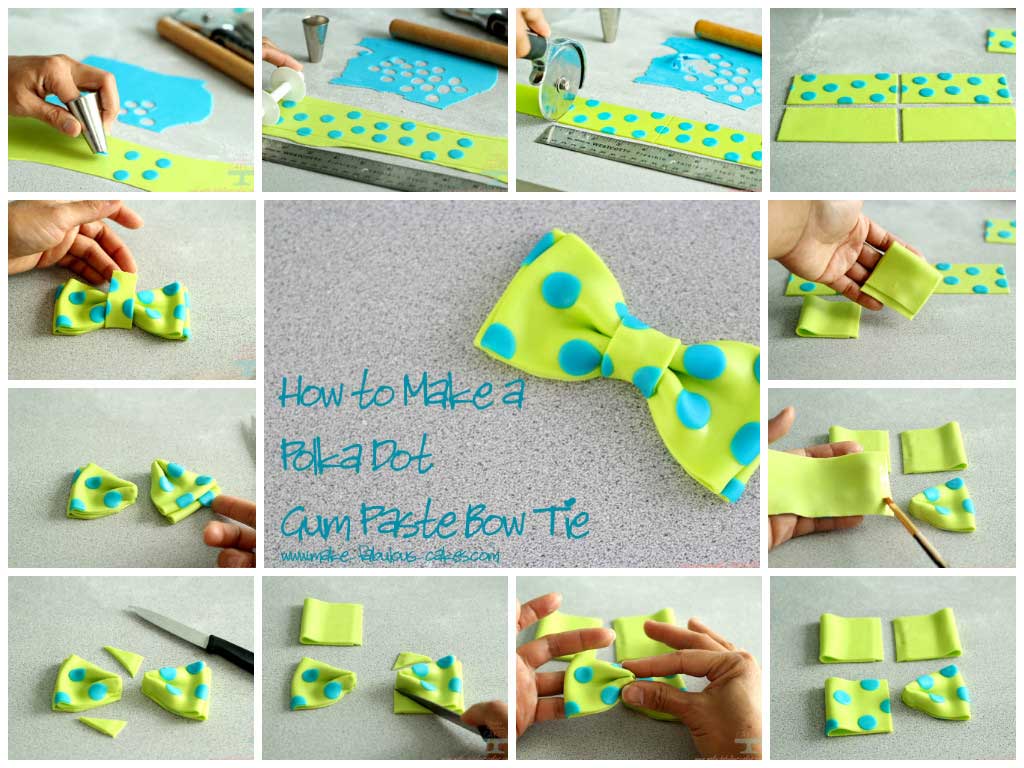 Happy Father's Day! 
XOXO,

You might also like:

Father's Day Cake Top
The images, tutorials and content on make-fabulous-cakes.com are protected by copyright laws. DO NOT distribute or copy the content without written permission. DO NOT edit, crop, or remove watermarks from any image or video. If you intend to use any of the text, templates or images within, it must be linked back to this site with credit given to www.make-fabulous-cakes.com. For questions contact us HERE.
Disclosure: Please note some of the links in this post may be affiliate links, I will earn a commission if you decide to make a purchase. This doesn't cost you anything additional and I truly appreciate this support, thank you!

comments powered by