Chocolate Almond Cake
This post may contain affiliate links. Please read my privacy policy and disclosure.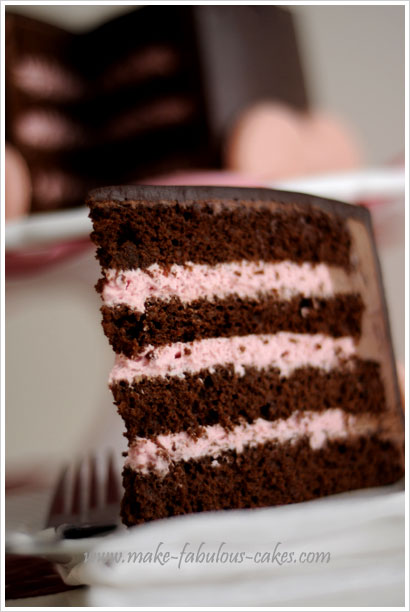 The inspiration for this Chocolate Almond cake all started with the french macarons . I've been wanting to make the macarons for the longest time and of course, I want to put it on a cake. I wanted a cake that would tie into the almond flavour of the macarons and I also wanted to use chocolate and strawberries.
The original vision in my head was that the chocolate almond cake be covered with a pristine, smooth coat of dark chocolate ganache. Well that vision didn't really come into reality as I tried to rush the process a bit. After filling the cake with strawberry mousse and crumb coated the cake with chocolate buttercream, I shoved it in the freezer to chill it faster. I just wanted the buttercream to harden a bit before I pour the ganache on it. But then I got distracted. The cake stayed in the freezer longer than it had to. The exterior was already frozen when I got to it.
When I poured the chocolate ganache on the cake, well it got frozen too pretty fast. It would not spread when I tried to push it to the sides with a metal spatula.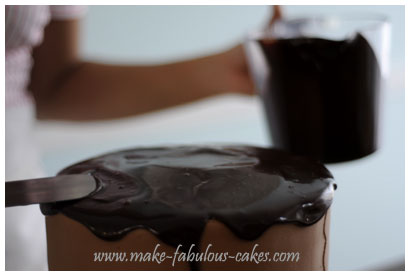 What I got was an ugly chocolate mess. Oh well, on to plan B.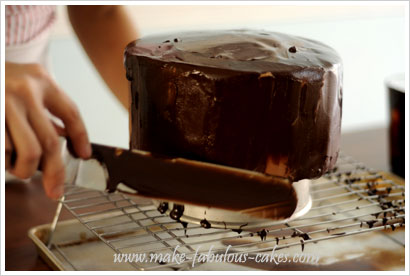 I tried scraping off the chocolate ganache but most of it would not budge.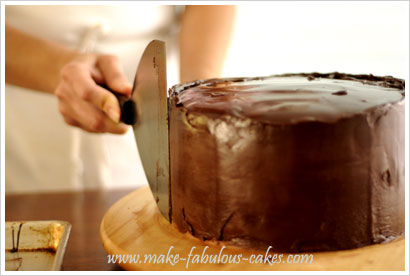 So I just tried to smooth it out with a metal spatula as best as I could. The end result was ok. Instead of that shiny, smooth cake that I envisioned, I got a rustic looking one. Well, it had that homemade feel to it and it was starting to grow on me.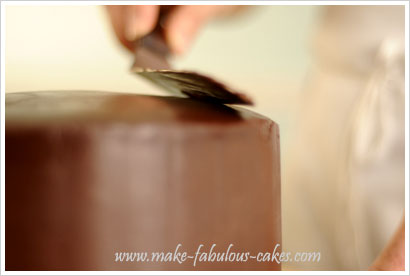 I love the sophisticated flavor combination of almonds and chocolate. I used the strawberry mousse in between layers and this added another dimension of flavor to the cake. And finally I added the french macarons as the pièce de résistance of this already lovely cake. The flavours of the almond, chocolate and strawberries married very well and I found that the cake tasted even better the day after it was made.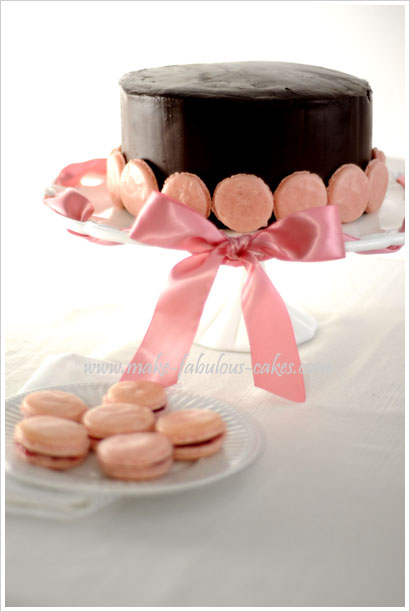 *Does not print in Chrome browser; pls. print in Mozilla or Internet Explorer.*

CHOCOLATE ALMOND CAKE RECIPE
INGREDIENTS

1 1/2 cups (180 gr) ground almond
2/3 cup (85 gr) cake flour
2/3 cup (70 gr) unsweetened cocoa powder
1 1/2 tsp. baking powder
1/4 tsp. salt
8 large eggs separated
1 1/2 cups (300 gr) granulated sugar
2 tsp. vanilla extract
1 tsp. almond extract
1/2 cup (60 ml) milk

METHOD
Preheat the oven to 350°F; and line 2 x 8" round cake pans with parchment or wax circles.
Mix together the ground almonds, flour, cocoa powder, baking powder and salt.
In another bowl, beat the eggyolks with 1 cup of the the sugar. Add the vanilla and almond extracts.
Alternately mix in the milk and the almond mixture into the eggyolks, starting and ending with the almond mixture.
In another grease free bowl, beat the eggwhites with the rest of the sugar until stiff peaks. Carefully fold this into the almond - yolk mixture.
Pour batter in prepared cake pans and bake for approx. 30 minutes. The cake is ready when an inserted wooden skewer or cake tester comes out clean or when cake springs back when lightly pressed with a finger.
Let the cake cool in pans for about 10 minutes. Loosen the sides with a knife or metal spatula and invert to a metal rack. Invert again to another rack to prevent the cake from splitting.
Cut each cake into two. Fill with strawberry mousse. Ice with chocolate buttercream. Place the iced cake in the refrigerator to chill (but not frozen!). Pour chocolate ganache on top and sides. Add some macarons and enjoy!
You might also like: 
---
Chocolate Almond Cake ⬆
Chocolate Almond Cake Top
The images, tutorials and content on make-fabulous-cakes.com are protected by copyright laws. DO NOT distribute or copy the content without written permission. DO NOT edit, crop, or remove watermarks from any image or video. If you intend to use any of the text, templates or images within, it must be linked back to this site with credit given to www.make-fabulous-cakes.com. For questions contact us HERE.
Disclosure: Please note some of the links in this post may be affiliate links, I will earn a commission if you decide to make a purchase. This doesn't cost you anything additional and I truly appreciate this support, thank you!

comments powered by