Light and Fluffy Chiffon Cake
This post may contain affiliate links. Please read my privacy policy and disclosure.
I get a lot of requests for this chiffon cake recipe. Chiffon cakes are making a come back right now, maybe reason being, it has lesser cholesterol and fat content and people feel less guilty eating it.
Most of the time chiffon cakes are baked in a tube pan. I, however, don't have a tube pan and bake this cake in just any kind of pan. I have used this cake recipe to make just about any special occasion cake from one layer sheet cake to a five tier wedding cake.
Making a chiffon cake can be a little bit tricky. Because the cake's volume is achieved by whipping up the eggwhites until stiff peaks form, it is vital that there is no eggyolk or speck of or grease in the bowl. Oil inhibits the foam formation in eggwhites. Adding sugar and cream of tartar also helps in creating more volume and stability.
After the cake has been taken out of the oven, run a knife or metal spatula around the cake and immediately take it out of the pan. Do not let if cool down in the pan or the steam that has been trapped inside will deflate the cake.
 *Does not print in Chrome browser; pls. print in Mozilla or Internet Explorer.*

CHIFFON CAKE RECIPE
INGREDIENTS
2 1/4 cups (281 g) cake flour 
1 1/2 cups (300 g) granulated sugar
1 1/2 tbsp. (22.5 g)baking powder
1/4 tsp. salt (2 g)
8 eggyolks
3/4 cup (180 ml) orange juice
3/4 cup (180 ml) oil
8 eggwhites
1 tsp. (5 g) cream of tartar

METHOD
Preheat oven to 325°F. Prepare two 9" pans or one 12" cake pan or one 9"x 13" sheet pan by lining with parchment or wax paper.

Sift cake flour in a bowl and add 1 cup of the sugar, baking powder and salt. Set aside.

Mix together the orange juice, oil and eggyolks.

Make a well in the dry mixture and pour in the juice mixture. Mix together for about 2-3 minutes with an electric mixer until light and fluffy.

In another bowl, whisk eggwhites until frothy. Add in cream of tartar. Slowly add the remaining 1/2 cup of sugar. Beat the eggwhites until stiff peaks have formed.

Gently fold the eggwhites in to the batter.

Pour batter in prepared cake pans and bake for approx. 45 minutes.

The cake is ready when an inserted wooden skewer or cake tester comes out clean or when cake springs back when lightly pressed with a finger.

Loosen the sides with a knife or metal spatula and invert to a metal rack almost immediately. Invert again to another rack to prevent the cake from splitting.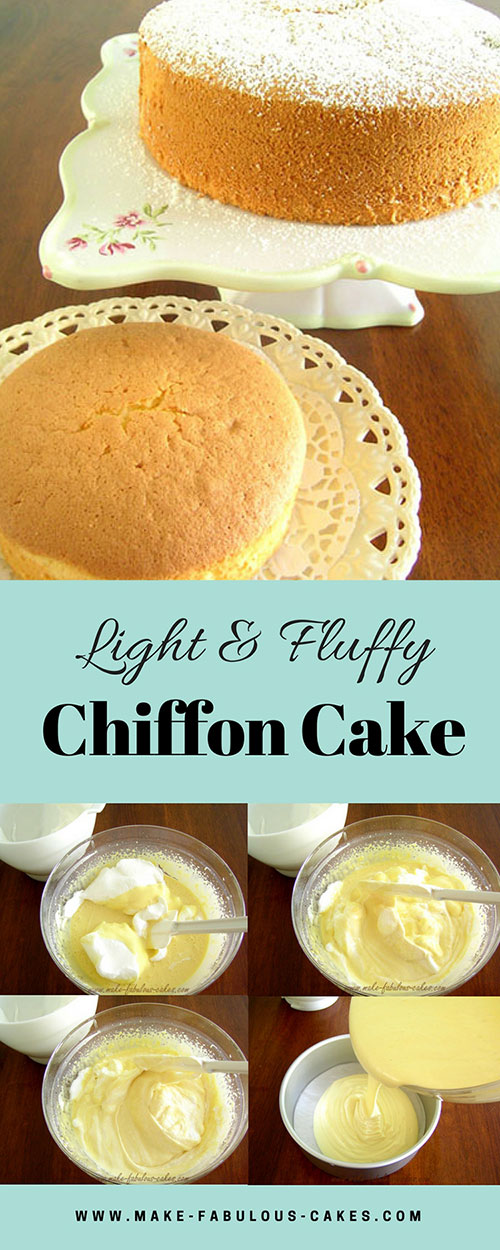 ---
You might also like:
---
Chiffon Cake ⬆
Chiffon Cake
The images, tutorials and content on make-fabulous-cakes.com are protected by copyright laws. DO NOT distribute or copy the content without written permission. DO NOT edit, crop, or remove watermarks from any image or video. If you intend to use any of the text, templates or images within, it must be linked back to this site with credit given to www.make-fabulous-cakes.com. For questions contact us HERE.
Disclosure: Please note some of the links in this post may be affiliate links, I will earn a commission if you decide to make a purchase. This doesn't cost you anything additional and I truly appreciate this support, thank you!

comments powered by