Pineapple Upside Down Cake Recipe
This post may contain affiliate links. Please read my privacy policy and disclosure.
I'm head over heels with this pineapple upside down cake recipe! Not only is it easy to make, it also brings the flavour of the tropics right into your home. I found this recipe and it has the unusual twist of adding lime for that an extra Carribean punch of flavour into the cake. And I love the addition of pecan nuts. It is caramelized and flavored with pineapple, it's my favorite part of the cake!
Originally, pineapple upside down cakes were cooked in a frying pan. The butter and brown sugar were melted together, pineapple rings artfully arranged all around, occasionally maraschino cherries dotted the rings to make it more fancy, then a white cake is poured over and baked. Once baked, the pan is flipped over and voila, a showcase of caramelized pineapple and gooey sauce on top or the cake.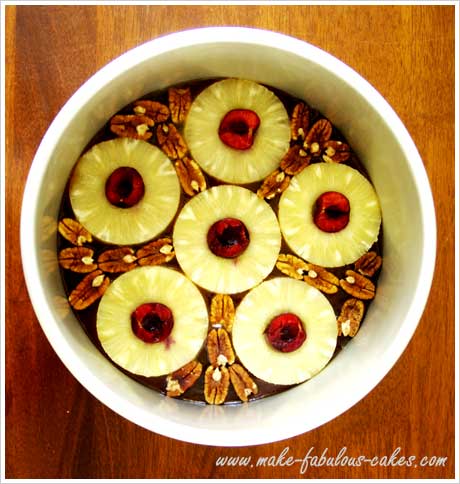 Since I didn't own a frying pan that would not melt in the oven, I used a regular 9" round cake pan. I made the butter and brown sugar separately and poured into the pan. I used fresh cherries that I had in hand. I also like to brush a bit of rum on the top just to umph that tropical flavour. This cake is best eaten warm with whipped cream.
*Does not print in Chrome browser; pls. print in Mozilla or Internet Explorer.*

Pineapple Upside Down Cake Recipe
INGREDIENTS
Topping:
1/4 cup unsalted butter
1/2 cup packed dark brown sugar
14 oz (400 mL) can pineapple slices
1/2 cup pecan halves
cherries, fresh or glazed (optional)

Cake:
1-1/3 cups all-purpose flour
2 tsp. baking powder
3/4 cup granulated sugar
1/2 tsp salt
3/4 cup milk
1/4 cup vegetable oil
1 large egg
Finely grated zest of 1 lime
1 tbsp. lime juice
1 tsp. vanilla extract

METHOD
Preaheat oven to 350°F. Butter a 9" round cake pan.
Topping;
Melt butter in a sauce pan. Add the brown sugar and stir until dissolved and bubbly. Carefully pour in the cake pan. Arrange slices of pineapple, cherries and pecans on the top.
Cake:
In a bowl, mix together flour, baking powder, sugar and salt.
Add in milk and oil, whisk for about a minute.
Add in the rest of the ingeredients until whisk again until blended.
Pour batter in prepared cake pan and bake for approx. 30 minutes. The cake is ready when an inserted wooden skewer or cake tester comes out clean or when cake springs back when lightly pressed with a finger.
Invert into a serving platter. Serve with whipped cream and enjoy!
P.S.
I happened to accidentally stumbled upon these pineapple upside down cake pans and I think they are adorable. I didn't even know they actually existed!
And check out these mini ones too! Now, how super cute is that?!

Pineapple Upside Down Cake Recipe Top
Home Page

›
Delicious Cake Recipes
› Pineapple Upside Down Cake Recipe
The images, tutorials and content on make-fabulous-cakes.com are protected by copyright laws. DO NOT distribute or copy the content without written permission. DO NOT edit, crop, or remove watermarks from any image or video. If you intend to use any of the text, templates or images within, it must be linked back to this site with credit given to www.make-fabulous-cakes.com. For questions contact us HERE.
Disclosure: Please note some of the links in this post may be affiliate links, I will earn a commission if you decide to make a purchase. This doesn't cost you anything additional and I truly appreciate this support, thank you!

comments powered by