Strawberry Cake Recipe
This post may contain affiliate links. Please read my privacy policy and disclosure.
This Strawberry cake recipe is a sure hit with the kids and adults alike. It is moist and a strawberry flavour you sure can't miss.

This cake is lovely as a part of a three layers of Neopolitan cake (other layers are vanilla and chocolate). Or make princess cupcakes with this pink battered strawberry cake.

You can also cut the strawbery cake in half and sandwich the whipped cream and strawberry slices in the middle. Put more cream on top and garnish with strawberry halves.
Another way to serve this stawberry cake recipe is to glaze the strawberry cake with chocolate ganache and decorate with strawberries dipped in chocolate. Yum!
*Does not print in Chrome browser; pls. print in Mozilla or Internet Explorer.

Strawberry Cake Recipe
INGREDIENTS
2 3/4 cups (344 g) cake flour
2 1/2 tsp. (12.5 g) baking powder
1 cup (227 g) butter, softened
2 cups (400 g) white sugar
1 (3 oz) (84 g) package strawberry flavoured gelatin
4 eggs
1 cup (240 ml) whole milk
1 tbsp. (15 g) vanilla extract
1/2 cup (120 ml) strawberry puree


METHOD
Preheat the oven to 350°F; and line 2 x 9" round cake pans with parchment or wax circles.
Sift cake flour and baking powder together in a bowl.
In another bowl, cream the butter, sugar and powdered gelatin until light and fluffy. Add eggs one at a time, mixing it in after addition of each.
Stir the flour mixture alternately with milk, beginning and ending with the flour mixture.
Add the vanilla extract and strawberry puree.
Pour batter in prepared cake pans and bake for approx. 30 minutes. The cake is ready when an inserted wooden skewer or cake tester comes out clean or when cake springs back when lightly pressed with a finger.
Let the cake cool in pans for about 10 minutes. Loosen the sides with a knife or metal spatula and invert to a metal rack. Invert again to another rack to prevent the cake from splitting.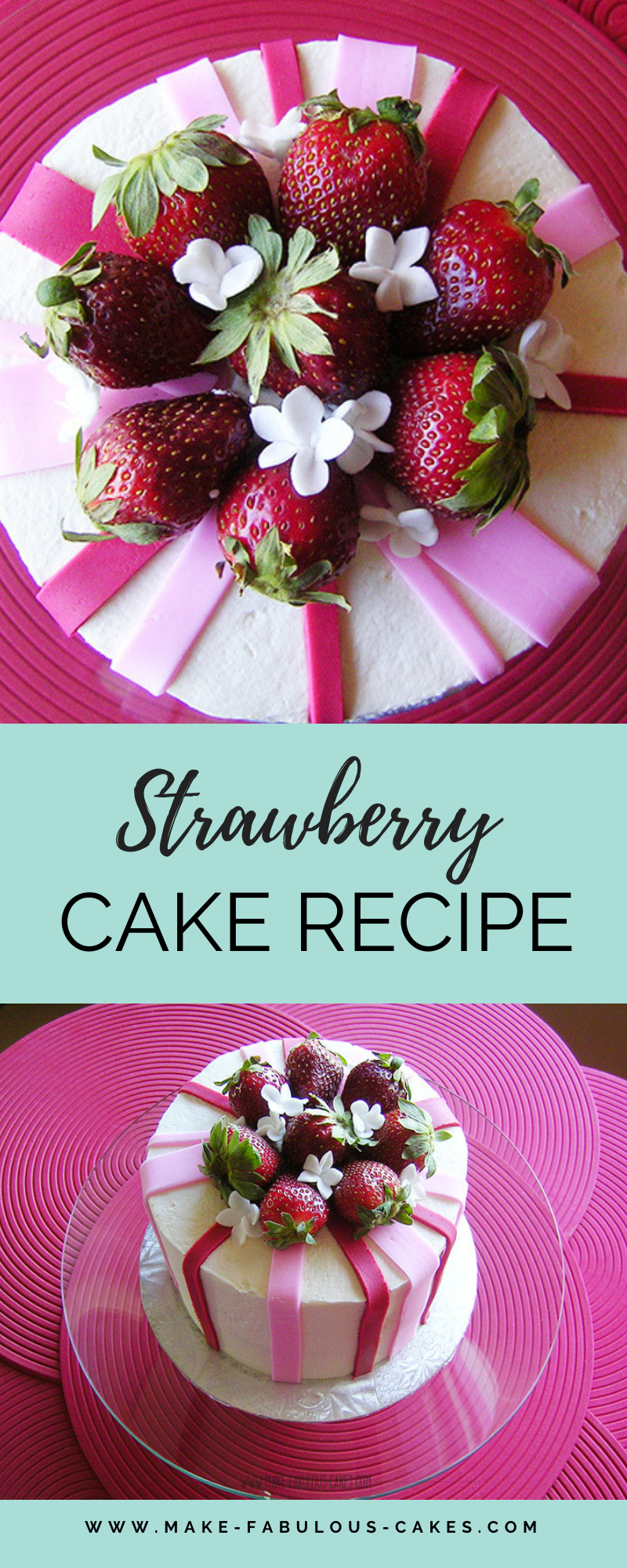 Strawberry Cake Recipe Top
Home Page

›
Cake Recipes
› Strawberry Cake Recipe
The images, tutorials and content on make-fabulous-cakes.com are protected by copyright laws. DO NOT distribute or copy the content without written permission. DO NOT edit, crop, or remove watermarks from any image or video. If you intend to use any of the text, templates or images within, it must be linked back to this site with credit given to www.make-fabulous-cakes.com. For questions contact us HERE.
Disclosure: Please note some of the links in this post may be affiliate links, I will earn a commission if you decide to make a purchase. This doesn't cost you anything additional and I truly appreciate this support, thank you!

comments powered by