Spring Flower Cake
This post may contain affiliate links. Please read my privacy policy and disclosure.
Celebrate the coming of spring with this colorful flower cake. This cake was actually inspired by a wallpaper border. When I saw the pattern, I thought it would be fun to use the positive and negative cut-outs in a cake.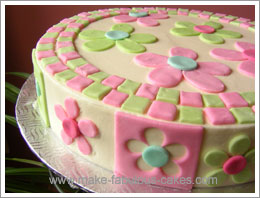 For this project, I used one layer 12" round cake, filled and frosted smoothly with my favorite buttercream. The finished cake is about 2" high. Color the fondant in 4 shades: pink, light green, a bit of light blue and a bit of dark pink.
For the decorations on the sides of the cake, roll out the pink and green fondant thin. With a 2" square cutter (this one is from Wilton) cut out a few squares of pink and green.
Using a small tear drop shape cutter, punch out 5 petal to form a flower from the squares. Keep the punched-out petals.
Use a large round tip to cut out form the blue and dark pink fondant a circle to add in the middle of the flower.
Apply the punched out squares on the side of the cake. Alternate with the cut-out petals. Brush a bit of water on the circles and attache to the middle of the flowers.
Use a 1/2" square cutter to cut out the mosaic tiles from pink and green fondant to place on the edge of the cake.
Using a larger tear-shaped cutter, cut out larger petal shapes to put on top of the cake. Cut a larger circle to add to the center of the flowers.

Spring Flower Cake Top
Home Page

›
Flower Cake Gallery
› Spring Flower Cake
The images, tutorials and content on make-fabulous-cakes.com are protected by copyright laws. DO NOT distribute or copy the content without written permission. DO NOT edit, crop, or remove watermarks from any image or video. If you intend to use any of the text, templates or images within, it must be linked back to this site with credit given to www.make-fabulous-cakes.com. For questions contact us HERE.
Disclosure: Please note some of the links in this post may be affiliate links, I will earn a commission if you decide to make a purchase. This doesn't cost you anything additional and I truly appreciate this support, thank you!

comments powered by