Mother's Day Cake - Purses for Mom
This post may contain affiliate links. Please read my privacy policy and disclosure.
Can a lady have too much purses? No, never. But purses do take a lot of space in the closet (or wherever you may store them). So yeah give mom a purse that she can both enjoy and eat and won't clutter her home! Make your mother feel special with a mother's day cake with a purse (cake, of course!) on it.
It's been a while since I made these cakes but I thought I would share it here in MFC. No, they weren't all for my mom, though she did get one. A friend requested a cake for her mom and another cake to bring to church on mother's day. I had my purse cake mojo that day, so I made three different kinds!
This one's for my mom!
These purse cakes are simple in design so it wasn't really that hard to make. First cut the cake into desired purse cake shape. Then cover with buttercream and then with fondant. The flaps were first cut into shape before adding to the cake. Add a small strip of ribbon for the handle. Make two small slits on top of the cake on where the ribbon handles will go. Carefully insert the ribbon with the help of the knife. Decorate with flowers and dots and you are done.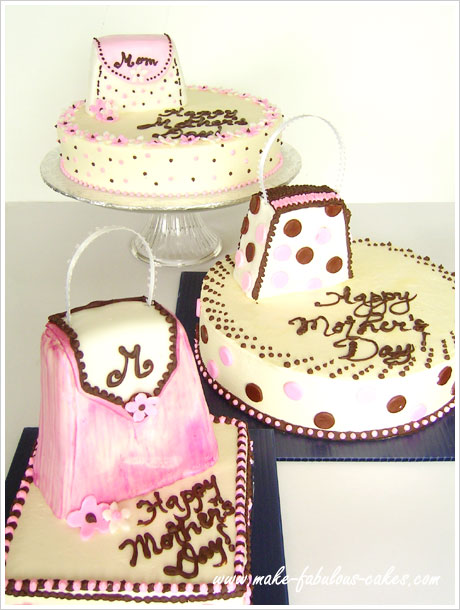 Happy Mother's Day to all the moms out there!

Mother's Day Cake Top
Home Page

›
Celebration Cakes
› Mother's Day Cake
The images, tutorials and content on make-fabulous-cakes.com are protected by copyright laws. DO NOT distribute or copy the content without written permission. DO NOT edit, crop, or remove watermarks from any image or video. If you intend to use any of the text, templates or images within, it must be linked back to this site with credit given to www.make-fabulous-cakes.com. For questions contact us HERE.
Disclosure: Please note some of the links in this post may be affiliate links, I will earn a commission if you decide to make a purchase. This doesn't cost you anything additional and I truly appreciate this support, thank you!

comments powered by