Glossy Buttercream
This post may contain affiliate links. Please read my privacy policy and disclosure.
Glorious glossy buttercream is finally here!   If you have always wanted to make glossy buttercream, look no further.  THIS is it - buttercream that is shiny as ever.  
I am so excited to announce that I have now added how to make glossy buttercream as a bonus lesson in my online class Make Fabulous Buttercream Flowers!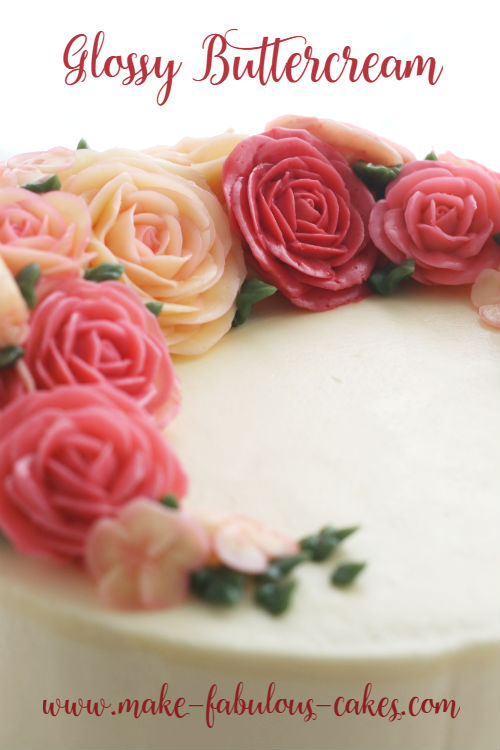 One of my most asked question from the students of my online class is how to make the buttercream look glossier.  Along with the trending Korean buttercream flowers right now, another sought after look is with flowers that ethereal shiny look that seems to be almost transparent. 

I experimented for quite some time… Oh you won't believe how much butter I have used just to crack this one.  I thought I got it and I even excitedly announced on my Snapchat and Instagram that I will be sharing it in my online class. 
Then when I tried to recreate it again, I failed.  A few times L  And this went on for awhile. 
I almost gave up.
Then I said okay, let me try this one more time and if it doesn't work out then that's it, I'm throwing in the towel.
And then it worked! Again and again… cue in happy dance J
As a thank you gift to my students in the online class, here it is…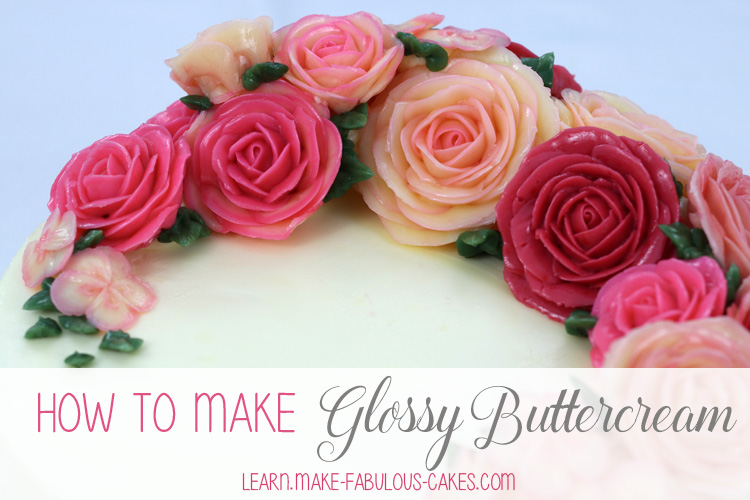 And you know what I found out while using this buttercream?  Aside from it being nice and glossy, this buttercream feels much firmer and doesn't keep that much air bubbles, so it is silky smooth and it pipes like a dream.  It's my new favourite buttercream to make flowers with!
I also did a side by side comparison in the class of the glossy buttercream and the usual buttercream that I use.  You will see that this buttercream takes on colour just a bit differently than the usual one.
But wait for it… there's more!
When I was making a cake for pictures, I decided, hey why not just make a video as well and show them how to make a full buttercream rose and how to make this crescent flower cake.  
So just to recap here are the video bonuses that I have added in the Make Fabulous Buttercream Flowers online class:
·         How to Make Glossy buttercream with downloadable recipe in pdf
·         A side by side comparison of the glossy buttercream with regular BC
·         A tutorial on how to make a full buttercream rose
·         How to assemble a flower crescent cake
Please note, if you are already a student of this class, all you need to do is login and the bonuses are already there for you.  No additional purchase required.  You're welcome ;)

But if you are not a student yet, and would like to learn how to make fabulous, glossy buttercream flowers, then this class is for you!
I mean seriously, this is a fantastic deal, considering you don't have to travel far and wide for a class, you can learn at your own pace, and if ever you have additional questions, I'm right there to answer it in the class.  
Here are recent cake projects that I have done using this buttercream.  
Dreamy, isn't it?!
So, what are you waiting for? Check out the class now!
Happy caking,

The images, tutorials and content on make-fabulous-cakes.com are protected by copyright laws. DO NOT distribute or copy the content without written permission. DO NOT edit, crop, or remove watermarks from any image or video. If you intend to use any of the text, templates or images within, it must be linked back to this site with credit given to www.make-fabulous-cakes.com. For questions contact us HERE.
Disclosure: Please note some of the links in this post may be affiliate links, I will earn a commission if you decide to make a purchase. This doesn't cost you anything additional and I truly appreciate this support, thank you!

comments powered by