Fab Friday Feature:
Paul Bradford of Cakeflix 
This post may contain affiliate links. Please read my privacy policy and disclosure.
This month's Fabulous Friday Feature is with the very talented Paul Bradford.  The smiley face behind of CakeFlix.com, let's get up close and know him a little bit better.

I can't remember how long I've been following Paul Bradford but I've been a fan before he created his online school which has just recently re-branded to CakeFlix.  
CakeFlix is just like Netflix but for cakes.  You get hundreds of lessons when you subscribed and you get Paul and guest teachers showing you how to do a particular cake, ranging from simple cupcakes to some legit 3d cakes.  It's the caker's absolute dream channel.
I have take some of Paul's online video classes and what I love about him is that he is so personable that when I'm watching him, I feel like I am sitting in a friend's kitchen having an enjoyable time.  And of course, I love his cake ideas and very good at giving explanations.
This is just a sample of Paul's fabulous work.  Be sure to check out CakeFlix learn how to make amazing cakes! 
---
Interview with Paul Bradford
---
Tell me a little about yourself, your location and how did you get into this cake journey. 
I'm Paul Bradford, just turned 40 and living in Malaga, which is in the south of Spain. My gran started me decorating cakes as a kid and that's all I ever wanted to do. I just love it and especially the teaching side and can't see myself doing any else.

How long have you been in this field?

I went to college at 16 years old then started working full time in a bakery at 18. I opened my cake shop when I was just 23. It's been a great journey since then, many highs and lows, from running 7 outlets with 35 staff to now being focused on teaching through online tutorials.

Can you describe to us what your style is?

Having been involved in the commercial side of cake decorating there was always a need to create a WOW factor cake in as short a period as possible. I would say that my main style is carved, intermediate novelty cakes, but can turn my hand to most styles.

Where do you get your inspiration from?

Sometimes inspiration comes from just seeing a nice garden, or an animal, but I mainly get my designs in my dreams. If I have a design to come up with I always think about it before I go to bed, sleep on my left side and bingo! In the morning he designs in my head. I can't explain it, but it works.

What is the best part of your job?

It's the reward of being able to help someone achieve something they didn't think they could do. It's that sense of pride when a student presents a cake to a customer or event and the compliments are flowing. At that stage it's not about the cake, it's all about how that cake makes the person feel. Being able to help people achieve this is undoubtedly the best part of my job.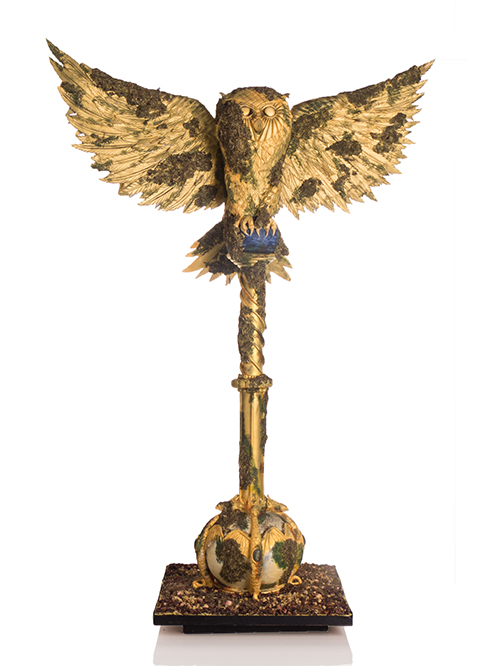 Tell us about your worst cake/work mishap.
Just the one? :-) When I had the shops in Scotland, heat was never an issue as it would be rare to get much higher than 20C. We had never had any problems before and a customer had phone me on the Wednesday to say that warm weather was forecast for the Saturday would the cake be ok? I said yes, with an air of confidence. Long story short, this cake was the last to be delivered and when it got to the venue, which was a beautiful location on Loch Lomond, the cake had completely melted. All that was left were some modelling chocolate roses which were the top decorations. It was awful, but nothing we could do given the time and location. A huge lesson learned and after that if the temperature was to be over 20C then the cakes were to be delivered the night before.

Tell me the best 3 things about you.

Always like a laugh, don't take life too seriously and always aim to please

Favourite cake flavour?

Chocolate, but I'm on a diet and haven't had chocolate for 4 months now.

Favourite gadget you can't live without.

Pasta roller, essential for these thin and tricky pieces.
Top 3 travel bucket list.
Fiji

Queenstown (NZ South Island, again)
LA
If you could only eat 3 foods for the rest of your life, what would it be?

Bread

Cornflakes
Strawberries
Conversely, what's the one food you could never bring yourself to eat?

Prawns

Squid
Liver
Dogs or cats?

100% Dogs

Last book you have read.

Big Friendly Giant (at school!)

If you're a colour, what would you be? And why?

Purple, strong, a little mysterious and it's the wrapper cover for Dairy Milk. 

When you're having a bad day, what do you do to make yourself feel better?
It used to be having chocolate, but now it's exercise. Nothing like a workout to destress. 

Lastly, what gets you excited nowadays? 

Launching CakeFlix and re-branding has been the busiest and most risky thing I've done for many years. But it's also the most excited feeling creating a new brand a new site and a new concept. Now, a new dog would be exciting, but two's enough!

How can people reach you who would like to know more about you and your business?
Website www.cakeflix.com
Facebook https://www.facebook.com/CakeflixOfficial/
Instagram https://www.instagram.com/cakeflixofficial/
Twitter https://twitter.com/Cakeflix1
Youtube https://www.youtube.com/channel/UC9dFRePg0QYEDljoxsU1zgQ
Pinterest https://www.pinterest.co.uk/cakeflix/
Thank you so much Paul for this interview! That was fun :)
Til next Fab Friday,


The images, tutorials and content on make-fabulous-cakes.com are protected by copyright laws. DO NOT distribute or copy the content without written permission. DO NOT edit, crop, or remove watermarks from any image or video. If you intend to use any of the text, templates or images within, it must be linked back to this site with credit given to www.make-fabulous-cakes.com. For questions contact us HERE.
Disclosure: Please note some of the links in this post may be affiliate links, I will earn a commission if you decide to make a purchase. This doesn't cost you anything additional and I truly appreciate this support, thank you!

comments powered by